ADD TO OUR SITE?

If you would like to add additional information to this website click here and provide the information.
Hockey in Portland, Oregon
Below you will find all the information you need regarding hockey in Portland, Oregon. From semi-pro hockey to watch to hockey associations to locations for playing hockey we hope you'll find everything you're looking for. If there is something you'd like to add to this page please click on the Ad to Our Site button on the left hand side.
Portland Winterhawks; Portland Winterhawks Hockey Club, PO Box 3009 Portland, OR 97208, (503) 238-6366, hockey@winterhawks.com This is the closest team that Portland has had to a professional hockey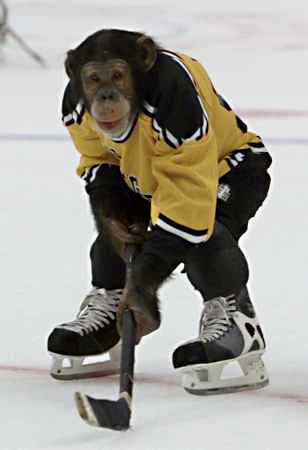 team. Portland is a terrific hockey town and people back the Winterhawks through the good and bad years. For tickets to a Winterhawks game click here. The Winterhawks currently play at both the Rose Garden (Home of the Portland Trail Blazers) and the Memorial Collisium.

Hockey Associations:

Oregon State Hockey Association; 4840 SW Western Avenue, Suite 7000, Beaverton, Oregon 97005, info@hockeyoregon.org, (503) 643-3550. The Oregon State Hockey Association is the governing body for Amateur Hockey in Oregon. The OSHA is a Sanctioned Affiliate of USA Hockey, which is the national governing body for Amateur Hockey. Junior Hockey Information: For Girls Hockey: The NW Selects have two levels of play serving the girls, The NWS Storm - A U14 recreational team, The NWS U12, U14, U16 & U19 tournament teams. For Boys Hockey: At the High School level there are organizations in Portland and Southern Oregon hosting 12-15 high school teams. At the Junior B level there are the River City Jaguars in Portland, the Eugene Generals, and the Medford Wranglers. At the Junior A level is the Winterhawks in Portland


Ice Arenas:

Sherwood Ice Arenas; 20407 SW Borchers Dr., Sherwood, OR 97140, (503) 625-5757, michael@sherwoodicearena.com
Valley Ice Arena; 9250 SW Beaverton-Hillsdale HWY. Beaverton, OR 97005
Lloyd Center Ice Arena; 953 Lloyd Center, Portland, OR 97232, (503) 288-6073
Mt. View Ice Arena; 14313 SE Mill Plain Blvd., Vancouver, WA 98684, (360) 896-8700


Play Hockey:
Oregon High School Hockey League;
Indoor Goals Pro Shop; 16340 Northwest Bethany Court, Beaverton, OR (503) 629-9500

Portland Pioneers Jr Hockey; 9250 Southwest Beaverton-Hillsdale Highway, Beaverton, OR (503) 291-0042

Click on any city below to find all the information you'll need to know when relocating to the Greater Metropolitan Portland Oregon area. You will be able to find all the important information about each city such as: closest employers, modes of transport, housing, high school, middle school, private school, daycare and infant schools, religious affiliations, parks and recreation, entertainment, demographics, local libraries, clubs and associations, restaurants, available sports, history about the city, nearby and surrounding cities, and pictures of what the city look like.
| | | | |
| --- | --- | --- | --- |
| Aloha, Oregon | | Beaverton, Oregon | Boring, Oregon |
| Canby, Oregon | | Corbett, Oregon | Cornelius, Oregon |
| Damascus, Oregon | Estacada, Oregon | Forest Grove, Oregon | Gladstone, Oregon |
| Gresham, Oregon | Happy Valley, Oregon | Hillsboro, Oregon | King City, Oregon |
| Lake Oswego, Oregon | McMinnville, Oregon | Milwaukie, Oregon | Newberg, Oregon |
| North Plains, Oregon | Oregon City, Oregon | Rainier, Oregon | Sandy, Oregon |
| Scappoose, Oregon | Sherwood, Oregon | St. Helens, Oregon | |
| Troutdale, Oregon | | Vernonia, Oregon | West Linn, Oregon |
| Wilsonville, Oregon | Portland | Downtown Portland | Northeast Portland |
| Northwest Portland | North Portland | Southwest Portland | Southeast Portland |
Bethany Cedar Hills Area Cedar Mill Area Forest Heights Eastmorland Westmorland Oak Grove Laurelhurst Rosemont Raleigh Hills Persimmon