Rock Climbing is abundant in Oregon with new sites developing all the time. Smith Rock is amazing and the birthplace of modern sport climbing. The following are a list of places one can climb within a short distance to Portland.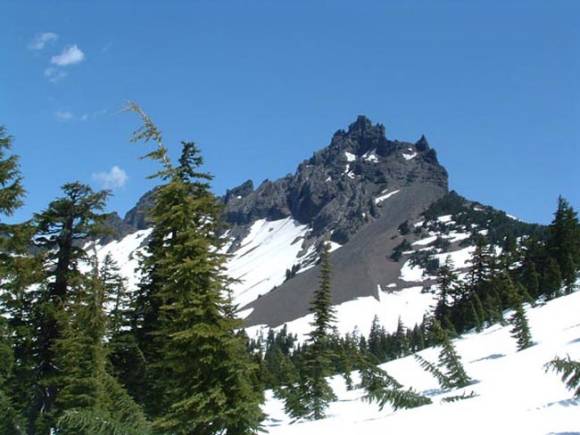 Beacon Rock is 35 miles east of Vancouver. The rock climbing area of Beacon Rock is closed between February and July for nesting raptors.
Bridge of the Gods Bouldering is a newly developed bouldering area in the Columbia River Gorge and is actually on the Washington side of the river.
Broughton Bluff is located in Troutdale. There are numerous walls to climb:

Bat Wall, Berlin Wall, Bridge Cliff, Broken Rock, Freeway Wall, Hanging Gardens Wall-Left, Hanging Gardens Wall-Right, Jungle Cliff, Mean Street, New Frontier Cliff, North Face Red Wall, Spring Rock, The Zone, Trinity Wall, Warrior Wall.
Take I-84 at the Lewis & Clark State Park exit East of Troutdale. Turn south at the T-intersection, drive beneath the railroad and follow the climbers and to Red Wall.
Bulo Point is close to Hood River. It has 15+ bolted routes with at least 2 overhanging sport climbs. Drive south from Hood River or, east from Government Camp on Hwy 35. Between Sherwood and Robin Hood campground turn east on F.S. 44. Drive for about 10 miles. Turn on 4420 take it for little more than a mile then turn left onto 4421 which leads to 240. Stay right, take this for about 1 mile. Look for a trail on your left. Park and hike 2 min on the trail to crag.
Carver Bridge Cliffs requires that you are a member of the Carver Climbing Club. To become a member, you must pay $8.00 for life and sign a waiver at the Portland Rock Gym. From I-5 North/South in the Portland area, take the I-205 North exit and proceed toward Clackamas. From I-205 North take Exit 12 and head East on HWY 212 toward Mt. Hood. From HWY 212 take HWY 224 South which takes you right into the town of Carver. Once in Carver, the road will split. Stay to the right and cross the river. Once over the bridge, take a left and park in the immediate dirt pullout on the right side of the street. The trail leads right up from the pullout. If for some reason the pullout is full, you must park in the park that is a quarter mile down the road on the left-hand side. There is free parking here during the week, but weekends and holidays pose a $3 charge.

French Dome is a small crag. It is located near Mt. Hood. Most of the routes are bolted and the height ranges from 80ft to 160ft. Take US 26 east/Mounthood Highway. Pass through the stoplight at Welches to the intersection of US 26 and E. Lolo Pass Road. Take E. Lolo Pass Road for 4.2 miles until the Y intersection of Forest Road 18 and Forest Road 1828. Stay straight/left at the fork and continue up FR 18 for 2 miles and then make a right-hand turn into a small dirt parking area. Then take a trail for about 1 min. to the crag.
Rat Cave currently has 8 full lines. Travel east on I-84 to the Bridalvale exit. Park on the south side of Benson lake about 1 mile before Multnomah falls.
Pete's Pile by Mt Hood offers climbs called Schoolroom Cracks, The Playground , and The Sandbox. Take Hwy 35 just north of the Sherwood campground on the east side of the road. Park at small gravel pull off and climb up a steep trail rising to the left. It is between Sherwood and Cooper Spur.
Rocky Butte includes the following sections:
Boulders in the Woods, Breakfast Cracks, Dream Weaver Wall,
Easy Street, Far East Wall, Fortress Top of Rocky Butte, Freeway Wall, Gothic Pillars, Mean Street, Poodle Pinnacle, Silver Bullet Bluff, Toothpick wall,
Trivial Pinnacle, Video Bluff, Wall of Shadows, Warrior Wall, and Wizard Wall. Take I-84 then 82nd. Ave. exit (eastbound), drive north to the intersection of Freemont and 82nd. Turn right (east), drive approximately 1/2 mile. The road curves north to become 91st street, (eventually to loop clockwise around to the top of Rocky Butte). The cliffs are located north side of the road near the Bible Temple Church "domes."
Rocky Butte Boulder Field is located on a small secluded cliff called The Schwingus. Follow the normal directions to rocky then to reach The Schwingus, park by a stone wall on the East side of the rock across from the south entrance to the bible school. Follow the trail that parallels this wall, eventually dropping down to the freeway. When the trail splits, follow the right fork down the hill paralleling a chain link fence. Eventually the trail heads right, back in the woods and in a couple of hundred yards the small cliff will be apparent.

Salmon River Slab is a slab located on the Salmon River. It's a small area and has great river access. Everything is bolted. The difficulty is about 5.5 to 5.9. Take 26 to Zigzag. Drive south on Salmon River Road (F.S. 2618), for just under 4 miles. On your left you will see a rock slab, park in the gravel pullout.
Waterboard City Park is near Oregon City.
Mt. Hood Climbing
Illumination is on Hood at about 9500ft. There are at least 5 rock climbing routes. Park at Timberline Lodge. Hike up to top of lift and angle toward rock. It will take 2 to 3+ hrs.
Mirror Mountain: Look up the ski lift and to the right from the parking lot. There will be a twenty minute hike.
Alpine climbing on Mt. Hood: Lethoulds Coular, Cooper Spur, and South Side.
Ice Climbing on Mt Hood: F, P, Pp, R, Reid Glacier Headwall, S, and The North Face.
Willamette Valley
35th Street Dunwai Creek Bridge Bouldering Wall is usually only climbable from mid April - November due to the water level being too high. From Philomath Blvd./HW 20/34, take a left on 35th St. if going west. (If traveling east that would be a right.) Drive down 35th street past Western View Middle School/Adams School over the Dunwai Creek Bridge. On your left will be Knollbrook Comunity Church. Park in the parking lot there and walk on over to the bridge.
Canyon Creek Cliffs offers some good bouldering. Head east on hwy 20 from I-5 until you reach Canyon Creek and park on the left side of the HWY. Hike north from the east side of the creek. You will find a small trail leading down the creek with a yellow rope to assist in the steep part. When you get down in the canyon turn right/north for about 100ft then turn right again and go upstream. The cliff is on your right and there is more bouldering a little further up the creek on the same side.

Falls City Falls allows you to climb above water. Take HWY 20 to the sign where it says Kings Valley which is about 15 miles west of Corvallis. Go to Kings Valley, then to Peedee, then to Falls City where the road zigzags. When you see the post office, the pull off is real close on the right. However, the best climbing is on the other side. To get there turn right at the post office, then left directly after that and it will be on your left.
Flagstone is a popular place to climb since it is close to Eugene. Take Highway 126 out of Eugene for 38 miles. Turn right on Quartz Creek Bridge and cross the McKenzie River. Quartz Creek Road is FS road 2618. Stay on FS road 2618 for 14.6 miles. At 14.6 turn right on FS road 350. Continue for .2 miles and park at the pullout. From the pullout you'll see the trail about 50 to 100 feet up the road. (There is camping)
Hagg Lake Road Slab. Drive to Hagg lake which is south of Forest Grove. Before you get to the lake, look on the right at a corner. Just after the slab there is a locked driveway. Park and walk on the road back to the rock.
Harlen Roadside Quarry Take HWY 20 West from Corvallis to Burnt Woods Road (about 22 miles). Continue on Harlan Burnt Woods Rd until you hit the Old Harlan Store. Turn right, stay on your right until the roads turns to gravel. The rock is about 2 or 3 miles down that road on the right.
Menagerie Wilderness is a place for experts. From Sweet Home take HWY 20 east for about 20 miles. You will see a road on your right to Fernview Campground. Continue on HWY 20 for about 0.5 miles after seeing Fernview Campground and you will see Rooster Rock Trailhead. Hike this trailhead (its about 2.1 miles and 2,500 feet elevation gain) until you see chicken rock.
Minto Rail Wall offers some bouldering. It is located by Salem.
P-IKE Boulders is a very small bouldering area located near the town of Yamhill.
Skinners Butte Columns is a 45' columnar basalt cliff that has seen climbing since the 1940's.
Wolf Rock from Eugene, head east on Hwy 126 toward Bend. As you are heading east, you will turn left at the Blue Lake Reservoir turnoff. From there you will continue on that road using the Forest Service markers staying on Road 15.
Northeast Oregon
Anthony Lake has granite and is mainly for sport climbing from 5.4 - 5.10a. Take I-84 until you reach North Powder. Once in North Powder take USFS 73 west until Anthony Lake.
Ashgrove has routes that can be very steep. Take Ash Grove cement plant exit off I-84, 20 miles east of Baker City. Park at the turn in for the cement plant at the silver railroad building. Run across the freeway and start up the hill. Hike up the draw on the right for about 150 yards to a rock careen. Follow the trail left to the crag. Hike time is aprox.15 min.
Benthos Buttress near Joseph has steep alpine granite in Scotts Creek Cirque. Approximately 800ft.

Burnt River Canyon has four walls to climb. While some are hard to get to the limestone sport routes are great. For the most part the climbing is 5.11 or harder, but there are a few easier routes. Watch our for Rattlers and Ticks. From Durkee head north on Old Highway 30 to Burnt River Canyon Lane. Take a left onto Burnt River Canyon Lane and follow for 21 miles. You'll see the areas on your right
Eagle Creek is a New Crag that just got opened up this summer 2006. There are about 12 bolted lines, maybe 8 have seen FFA. The climbing is very technical on steep limestone.
Flagstaff Point is quality alpine granite. Hike up to Brownie Basin, and the climbing is around the meadow and on the point. The Cliffs range from 40feet to 400ft.
High Valley has about 30 short climbs on good quality rock. Of the approx 10 bolted routes, they range from about 5.6 to 5.12. Anchors are easily accessible for top roping. There are rattlesnakes in the summer.
Horse Thief Butte is a great beginner/moderate climbing area. When it's raining in PDX it can still be dry out here. It is very good bouldering and top roping. From The Dalles drive 3 miles north across the Columbia River and then 2.5 miles east on Highway 14 to small bridge, cross the bridge and park on the left or at state park historical marker to the west. Hike on the path south to the hidden amphitheater in Horsethief Butte.
Lostine River Canyon has granite cliffs right by the road. It is a short drive up the river from Lostine.
Mt. Emily is a 100+ foot cliff with about twenty bolted routes. Mostly 5.10 and up.
This one is difficult to find. It requires about ten miles on a rough forest service road, and then a quick hike downhill to the top of the cliff. GPS may help.
Spring Mountain offers a great collection of routes very close to the freeway with easy access for a huge variety of climbers. On I-84 from Pendleton, head east toward La Grande. Take the Summit Rd./ Mt. Emily exit off of I-84. Turn left on Summit Rd., cross over the interstate, and proceed approximately 8 miles on a gravel road until you see a sign on the right that says "Whitman Route overlook". Turn left at this sign and go about a mile to a meadow where a dirt road angles off to the right. Follow this rough road for about 300 yards, until it is blocked by some large boulders. Park here. The trail begins on the left about 50 ft. past the boulders.
Coastal Areas
Bandon State Park area doesn't cater to the hardcore climber, but is excellent if you're in the area and you need a quick climbing fix. This is a good, undeveloped spot to climb as the beach offers dozens of untouched boulders. Because the sandstone here is constantly eroded by the wind, some of the holds break easily. The best time to visit here early fall
Fisherman Rock is a small formation on the coast. It is best for bouldering and top roping. Turn west off 101 before Fogerty Creek. There is other climbing at Fogerty Creek State Park but you need to pay the fee to park there. During low tide there is a nice little east facing bouldering wall.
Kissing Rock can be found from Gold Beach drive south on highway 101 to mile post 337. Continue another 0.6 miles south, crossing Hunter Creek to Kissing Rock on your right. Park on the pullout to your right.
Central Oregon
3 Sisters
Middle Sister, North Sister, and South Sister offer alpine climbing on volcanic rock. While South Sister is easy, it is crowded with hikers. Best time to climb is May-August.
Brokentop Mountain. The hike in is easy. The top is maybe a touch of climbing with some steep lava rock slopes where rock slides will be more than normal.
Crack in the Ground offers two miles of basalt ready for trad and top roping. Head north from Christmas Valley on Crack in the Ground Rd. Follow it for 8 miles until you see the cliffs.

Green Ridge: There are some top rope routes that you can use natural protection to anchor. Also beware of rock fall. From Sisters take Highway 20 west for 6 miles. Then turn north onto USFS Road 11. Follow for 15.7 miles until you see the cliffs.
La Pine Wall offers basalt routes. The grades range from 5.8-5.12c trad. Drive south on Highway 31 from La Pine. After about 10.5 miles there should be a dirt road on the left.
Meadowview Cliffs and Boulders is also Known as Meadowcamp. There are about 1/2 mile of cliffs 30 to 50 ft tall running along the river. Many climbs have glue-in rappel bolts on the top and all are top roping. There are probably about 20 climbs from about 5.6-5.10. HWY 97 goes right through Bend. If coming from the north turn right on Franklin St. If coming from the south turn left. Franklin will take you to the Deschutes River; turn right over the bridge. About a mile from the river there is a Round-a-Bout at 14th St.; turn left. Go straight through two more Round-a-bouts. Then go about 3-4 miles and turn on the dirt road before the golf course. 1 mile down the dirt road park on the left. The cliffs are north or down river; left facing the river. They start about 1/5 mile from the parking.
Sisters Boulders area is a great area for both bouldering and top roping. Open to camping all year round, however there might be snow in the winter. Take Highway 20 until you reach North Locust Rd (North Locust Rd is on the east side of Sisters near the gas station). North Locust Rd will turn into Camp Polk Rd, follow this road as it turns into Wilt Rd. Continue on Wilt Rd until you see mile marker 5. Once there turn left onto an unnamed dirt road. There will be a P and two red diamonds on a tree that will indicate the turn. Follow the dirt road and make the first right (it comes up pretty quick) and you'll be at the parking lot.
Skull Cave is a cave just out of bend. It has some really fun bouldering. Chalk is banned here.
Steins Pillar is a 350-foot skyscraper of ash that rises out of the Ochoco mountains. Drive East on HWY 26, 10 miles out of Prineville. Turn Left on Mill Creek Road. Keep going after it turns to gravel and turn right to the trailhead. After two miles of winding gravel you will be at the trailhead. From there you will do 1.8 miles of hiking.
The Badlands is located outside of Bend. There exists some great basalt there for bouldering and trad leads from 5.4-5.10. From Bend take Highway 20 east for 18 miles. There will be a paved road on your left (or north). Continue on the road for a mile and make a left onto Road 4. Continue on Road 4 until you see the cliffs.
Widgi Creek offers rock walls ready for top roping and surrounding single boulders below. Take Century Drive from Bend. You'll see Widgi Creek Golf Course on your left. Once you see the golf course, take your first right onto the dirt road right across the way of the course. The area is closed to motor vehicles from Dec. 1-March 31 every year to protect winter elk and deer range. It only takes 10 minutes to walk in from the highway though.
Southwest Oregon Climbing
Acker Rock is in the middle of nowhere. The most common route up is the Perigrine Traverse but other routes on Wizard's Tower, Sunbowl, and Waterfall Wall all make for pleasant excursions.
Ashland Boulders are located in the foothills of Ashland. Overlooking the town you will find granite stone that is on average 15 foot high. Expect climbs to be on the hard side between V1 and V3. At the first exit into Ashland, take an immediate right off of the exit, then a left onto highway 99 which will turn into Main street. Right before you enter the big group of shops called the Plaza take a right onto Granite street. Follow this road until Nutley St. From Nutley St turn left onto Alnutt. This will dead end into Strawberry Ln. Follow it to the top where you will see a scenic turnout called Birdsong Ln. Park and head back up the road a little way until you come to a road to your left, follow this until it turns into a gated dirt path which will eventually turn into a single track called Hitt Road (be careful about bikers). Follow Hitt Road just a little past a barbed wire fence guarding the water tower. You can see Acid Castle rocks to the left off a little path.
The Callahans are actually a series of sandstone crags that sit 1500 vertical feet above the Flournoy Valley below, on a beautiful fir tree covered hill formation. The Callahans have over 200 climbs ranging from 5.5 to 5.13 on over 35 rocks. The hike up is a little long, but not overly grueling. The view is definitely worth it. From Interstate 5 take Exit-125 onto Garden Valley Boulevard. Drive 3 miles west on Garden Valley to Melrose Road. Turn left onto Melrose Rd. Follow Melrose Rd. 5.0 miles to where Melrose Rd. dead ends on to Flournoy Valley Rd. Turn right onto Flournoy Valley Rd. and travel 5.5 miles turning right onto Touchstone Road. Drive 1.8 miles to the locked gate. Be sure to leave room for people to turn around. From the gate walk several hundred yards up the gravel road to the first LEFT switchback turn. The small trail starts on the uphill side of this turn, near the beginning of the turn. Follow this trail 3/4 miles up the hill, gaining around 750 vertical feet, to the base of the rocks.

Colliding Rivers is a nice but small area (only about twenty feet long and fifteen feet tall) right next to the where the Little River and the North Umpqua meet. The only practical time to climb there is during the summer, since you have to cross the river to get to it.
Collier Boulders is a new area. There is no real trail yet but there are 5-6 huge boulders with routes all over.
Crater Lake has lots of unclimbed single pitch rocks on it's highest peak, Mt. Scott. There is also a few obscure slab climbs. Enter from the south on HWY 62 or the north on 138.
Emigrant Lake has about 20 climbs in all, located towards the north end of the lake. Enter the main entrance of park, follow road around to RV parking, look for big gravel pullout with a cable locked road behind it. Follow the road around to the left, you can't miss the rocks!
Greensprings crag offers about 30 routes near Ashland. From I-5 exit 14 Ashland, drive east on Hwy 66 Greensprings Hwy toward Klamath Falls. Drive for about 20 minutes then turn right on Tyler Cr. Dr. Drive down the gravel road for about 1/4-1/2 mile then park on the pullout on the right. The approach trail is on the left.
Hot Hot Boulders has about 4 main boulders next to the road. There are only a couple of routes so far. Go North on 97 leaving Klamath Falls, about 5 miles or so you will see a sign to Hagelstein Park. There is another road just past the road to the park, a steep forest service road. Take this road all the way to get to the first split in the road. There will is BIG pullout spot on your left, park there. The Boulders will be in plain view.
John Boyle Res. From where Hwy 97, 66, and 140 cross, go east on 66 for 15 miles. Cross over the bridge and turn left into a day use area next to the water. Park and follow the road/trail by foot along the shores. When you see a little outcrop of rocks right next to the lake, you can either hike to the top and scramble down, or if the lake is low enough you can walk on the shore. The first rock that has been cleaned is Swift Rock.
Old Man and Old Woman are close to Glide. Old Man is a spire next to the North Umpqua River. Old Woman sits just uphill.

Pilot Rock is a shallow intrusive rhyolitic volcano plug that sits on top of the Siskiyous. Loose columns and loose rock on top have limited most of the route development on only a small area on the south side and two earlier routes on the southwest side. From the top you will have spectacular views of Mt McLoughlin and Mt Shasta. Take exit 6 from the I-5 freeway. Follow 99 past the Mt. Ashland turnoff and continue under the freeway. Three miles later turn off onto the Pilot Rock Road to the left. Follow the road 2-3 miles until you reach the trailhead.
Rattlesnake Crags offers good, steep climbing on very grippy welded tuff. Reminiscent of Smith Rock climbs. Lots of trees though and watch out for Poison Oak. Must have guide book and a good sense of direction too or someone who has been there more than once as it is very secluded.
Williamson Cliffs were found around the 1970's and overlook the Williamson River. You may climb here year round. There are about 10 different walls each with about 6 to 10 climbs on them. The cliffs are about a 1/4 mile long and have 95+ routes.
Youtlkut Pillars is a volcanic feature made up of many vertical pillars. This crag consists of a face 100 feet long and 70 to 150 feet high.
Smith Rock
Picnic Lunch Wall Area is the first wall you encounter after the bridge. It is comprised of three walls. Picnic lunch Wall which is the first wall. Shiprock is the second and finally Table Scraps wall.
The Wooden Ships-The Gullies. After the Picnic Lunch Wall you encounter the Wooden Ships and the Gullies. Going from east to west you have Shipwreck Wall, Aggro Wall, Plastic Area, Honeycomb Wall, West Ship-River Face, Cocaine Wall, Tuff Nuggets Wall, Aggro Gully and finally Cocaine Gully.
Morning Glory Wall Area offers high quality lines just left (west) of the Wooden Ships/The Gullies. It consists from left to right (east to west) of Rolling Stone Wall, Churning Buttress, Overboard Area, Zebra Area, the Peanut, Fourth Horseman
The Dihedrals are the great wall facing south so it is hot during the day. 150 feet long 200 feet high. It moves from right to left and has some of the hardest routes in the park.
Christian Brothers - East Side. It is the wall to the right of asterisk pass when in the Parking lot. This wall gets a lot of sun and heat in the morning until about noon.
Smith Rock Group is a massive complex of 12 walls.
West Side Crags are the backside of Smith Rock when looking from the parking lot. The sections are called Angel Flight Crags, Christian Brothers - West Side, Mesa Verde Wall, Pleasure Palace, Snake Rock , and Spiderman Buttress.
Monkey Face Area is a free standing 400 foot high spire featuring outstanding rock. It holds a famous high line and the "Pioneer Route", one of the 50 classics.
Red Wall. From the footbridge follow the sign and go up and right. This area is shady in the afternoon.
Brogan Spire Complex is part of the Marsupials. It is a fairly long approach. The area has recently seen some development.
Delerium Tremens has good rock with an outstanding crack line on it.
Marsupial bouldering. Take the trail to the Marsupial crags, continue till you run into the rim rocks, walk up hill till you come onto the rode for the tunnel, continue towards wombat area.
Smithrock bouldering fields 1 & 2, some of the best bouldering and projects around..
Mini Half Dome is a block below the lowest point of Brogan Spire. It resembles Half Dome.
Tasmanian Devil is a pillar of decent rock.
The Wombat. Most of the rock here is no good, but there are some good climbs if you look closely.
Northern Point is a 50 foot basalt cliff with a very short approach from the turn-around parking lot. Numerous climbs on solid basalt, with sport, crack, and top-rope climbing.
Student wall is a great spot to bring beginners at Smith. It is away from the crowds and has a great view of the gorge. It is one of the few top rope accessible areas and it has some stout routes close by.
Lower Gorge has bolted lines, the highest quality routes in the lower gorge are trad. If you like crack climbing, come here!
Upper Gorge is mostly high end sport routes on perfect rock. There are beautiful columns with no crowds.
Bivy Bouldering has 10 boulders located below the Bivy area. There is one 20 ft over hanging cliff with top rope ancrers on the rim. To reach the boulders cut down sooner than the normal trail to the canyon. The rock is tuff not basalt rim.
Mudpile has unique rock, unlike anything else at Smith. Here you can climb on volcanic tufas, honeycombed mud, and ultra-steep cave routes. The left and right sides of the formation contain mostly vertical to less than vertical moderates. The cave in the center contains steep routes ranging from 5.12 to 5.14
Skull Hollow Campground is behind Smith Rock State Park in Terrebonne is a town called Lone Pine, on Lone Pine Rd. Past the town is a free campground called Skull Hollow Campground.