Portland Suburbs & Neighborhood Info

ADD TO OUR SITE?

If you would like to add additional information to this website click here and provide the information.
Portland, Oregon Economic Information

Portland has a very diverse economy. Portland is the best small city with a big city feel. From professional sports, to world leading outdoor tourism, to thriving downtown, to a vast suburbs, incredible food and beverage establishments, decent housing market and a soon to be improving employment.

So what is the Portland Economy made of? Here are the largest items that affect Portland's Economic outlook: 1. Jobs, 2. Tourism & Recreation, 3. Entertainment, 4. Housing, and 5. Transportation
EMPLOYMENT: Here is a brief overview of Portland's employment scene. When it comes to employment in Portland and the surrounding cities here are the larger employers: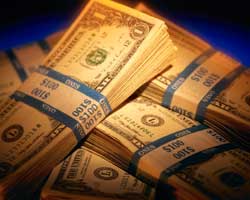 Hospital and Medical Care: Kaiser Health, Legacy Health Systems, Providence Health Systems, Portland Adventist Medical Center, Regence Group, St. Vincent Medical Center, SW Washington Medical Center, OHSU, Veteran's Affairs Medical Center,

Education: Portland Community College, Portland State University, Portland School District, Beaverton School Districts

Private or Public Companies: Nike, Tektronix Inc., Intel Corporation, Target Corporation, Wal-Mart Stores, Columbia Sportswear, Fred Meyer Stores, Doubletree Hotel, Western Star Trucking, Boeing Company, Esco Corp, PCC Structurals, Freightliner LLC,

Governement Institutions: Trimet, US Postal Service, City of Portland, US Postal Service, Bonneville Power Administration

Banks and Financial Institutions: Stan Corp Financial Group Inc, US. Bank, Wells Fargo
TOURISM & RECREATION: Here is a brief overview that drives Portland's tourism and recreation. When it comes to tourist activities in Portland and the surrounding cities you have more choices than you could even imagine. Here are some of the most popular tourist activities that surround Portland, Oregon. 1. Travelling to the beautiful Oregon Coast and do kite boarding or whale watching or fishing and crabbing or enjoy the cute beach town communities like Seaside, Cannon Beach and Lincoln city. Fly a kite, go dune riding, have a beach campfire, go to the casino or aquarium or simply people watch or go running on the beach.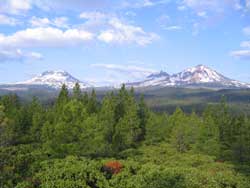 2. Travel to Hood River and go kite boarding, windsurfing, or sailing. People come from out of country for the chance to windsurf on the Columbia River at Hood River. 3. Go hiking. Oregon and Portland are filled with hiking trails everywhere. Oregon has the best outdoor scene hands down. 4. Enjoy our small city's entertainment. Go to a Trailblazer game or watch the previous National Champion University of Portland women's soccer team. Enjoy a microbeer at Portland's Brew festival. Enjoy a fun run or marathon or concert on the waterfront. 5. travel to the Willamette Valley and go on a wine tour and check out the beautiful land. 6. travel to central Oregon and visit Mt. Bachelor or raft down the Deschutes river. Or go to the numerous resorts in Sisters, Black Butte, and Sunriver. 7. Go skiing or snowboarding down Mt. Hood. The Olympic national team has used Mt. Hood for practice during certain times of the year. 8. Go fishing or hunting. Oregon has a vast culture of rivers, mountains, streams and wildlife. Many people come to Oregon for their chance to catch Salmon or hunt a Bull Elk or Buck Deer, or wild Turkey. 9. Go to the Convention and Exbo Center to view all sort of trade shows like the Home and Garden Shows, Hunting and Fishing Shows, Outdoor Shows, Small Business shows, Real Estate shows and more 10. Many people travel to Oregon for business. With Intel and Nike leading the state with Employment we get a lot of business tourist.

ENTERTAINMENT: Here is a brief overview of Portland's entertainment. When it comes to entertainment in Portland and the surrounding cities you have to consider the downtown night life. From numerous bars and restaurants with top quality food and drink, to Portland's invention of the micro breweries, to a very diverse night club scene with every dance style possible, to Portland's up and coming Opera, to great performing arts,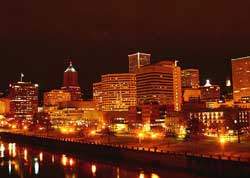 to incredible artists and outdoor art, to sporting events for all die hards, to entertainment for all age groups and all lifestyles. Portland is the place to be entertained. Sporting enthusiast enjoy the Oregon Ducks, Oregon State Beavers, Portland Trail Blazers, Portland State Vikings, University of Portland, Portland Beavers (minor leagues baseball), new major league soccer team, and the Portland Winter Hawks (minor league hockey team). Portland has some really nice venues too such as the Rose Garden, the renovated PGE Park, the Memorial Coliseum, the Convention Center, the Exhibition Hall and the Portland waterfront. Go on a city walking tour or take a Portland Spirit boat ride down the Willamette River. Attend a concert in any suburb of Portland on any given night. Enjoy home made beer at the local breweries and a good cup of coffee at any local bistro. Come visit and be entertained!

HOUSING: Here is a brief overview of Portland's Housing information. When it comes to housing in Portland and the surrounding cities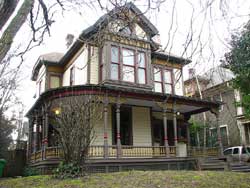 here are some important things you'd like to know. Most real estate agents say it's important to be in a safe city and a neighborhoods with good schools. Of course there are many other important factors when it comes to housing such as older established neighborhoods, bran new preplanned subdivisions and communities, low crime rates, highest appreciating areas, proximity to major employment. Proximity to freeways, highways and commuting patterns. Neighborhood and community extras such as Park and Recreation Districts. Many people move to the Beaverton Area because they want to be part of the Tualatin Hills Park and Recreation District. This District offers so many valuable services to the members of the community such as sports leagues, access to arts and craft facilities, weight rooms, numerous pools and educational opportunities for children. PDXrelocate.com has an approved list of Real Estate Agents that know everything about their territories. For information about a specific area please fill out our on-line form and let us know which area you are interested in and we'll give you the most qualified referral for your needs.

TRANSPORTATION: Here is a brief overview of each aspect that drives Portland's transportation. When it comes to transportation in Portland and the surrounding cities the people have many choices. Portland is probably the most bicycle rider and walking friendly city in the United States. The City of Portland has spent millions of dollars to widen lanes and paint special biking lanes on the downtown city streets. Downtown Portland now has the Street Car which connects the trendy Pearl District with Downtown. Also the MAX lines connect the entire Portland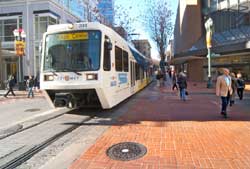 Greater Metropolitan area. There is a Max line that goes from Hillsboro to Gresham and from the Portland Airport to Clackamas. This is an ever expanding program that was very expensive to build. Portland International Airport (PDX) was the voted the best small airport in the country for three years straight. Also the Port of Portland has many other small airports as well like the Hillsboro, Troutdale and Mulino Airports. Portland also has shipping and cargo because it not only is near the Pacific Ocean but it lies directly on the Willamette and Columbia Rivers which makes it friendly for boat shipping of goods and services. Also Portland has Amtrak and other Train lines which are used frequently. Downtown's Union Station not only hosts Amtrak but Greyhound Bus Lines as well. And of course the most used transportation is people driving cars and busses. Portland is still has good traffic flows on their freeways and highways.
To learn about the local economy of each city below click on the city and you'll be able to learn all about each city from employers, transportation, housing, schools, religion, parks and recreations, entertainment, demographics, library, clubs, restaurants, sports, city history, surrounding cities and see pictures of parts of each city.

Click on any city below to find all the information you'll need to know when relocating to the Greater Metropolitan Portland Oregon area. You will be able to find all the important information about each city such as: closest employers, modes of transport, housing, high school, middle school, private school, daycare and infant schools, religious affiliations, parks and recreation, entertainment, demographics, local libraries, clubs and associations, restaurants, available sports, history about the city, nearby and surrounding cities, and pictures of what the city look like.
| | | | |
| --- | --- | --- | --- |
| Aloha, Oregon | | Beaverton, Oregon | Boring, Oregon |
| Canby, Oregon | | Corbett, Oregon | Cornelius, Oregon |
| Damascus, Oregon | Estacada, Oregon | Forest Grove, Oregon | Gladstone, Oregon |
| Gresham, Oregon | Happy Valley, Oregon | Hillsboro, Oregon | King City, Oregon |
| Lake Oswego, Oregon | McMinnville, Oregon | Milwaukie, Oregon | Newberg, Oregon |
| North Plains, Oregon | Oregon City, Oregon | Rainier, Oregon | Sandy, Oregon |
| Scappoose, Oregon | Sherwood, Oregon | St. Helens, Oregon | |
| Troutdale, Oregon | | Vernonia, Oregon | West Linn, Oregon |
| Wilsonville, Oregon | Portland | Downtown Portland | Northeast Portland |
| Northwest Portland | North Portland | Southwest Portland | Southeast Portland |
Bethany Cedar Hills Area Cedar Mill Area Forest Heights Eastmorland Westmorland Oak Grove Laurelhurst Rosemont Raleigh Hills Persimmon