Portland Suburbs & Neighborhood Info

ADD TO OUR SITE?

If you would like to add additional information to this website click here and provide the information.

Guide to Recreating in Oregon's Great Outdoors

Many people move to Portland, Oregon because of Oregon's diverse outdoor culture of activities. Below are some of the favorites:




ROCK CLIMBING
Oregon is the most beautiful state in the union. From the rivers, oceans, streams, mountains,

trees, wildlife and rocks Oregon offers a very diverse outdoor scene all driving distance from Oregon's largest city, Portland, Oregon.
There are many incredible rock climbing experiences in Oregon's great outdoors. Here you will find some nice rock climbing climbs as well as some pictures. Click here for pdxrelocate's rock climbing section.
HIKING
With Oregon's vast national forests and Portland's world class parks there is no shortage of great

hikes both within Portland to the suburbs to rural Oregon.

To see the all the incredible hikes Oregon has to offer click here.
WINDSURFING & KITEBOARDING
Oregon is home to the most popular windsurfing city in the entire world. That city is Hood River

(The Windsurfing Capital of the World). Hood River is a beautiful 40 minute drive East of Portland up the incredible Columbia River and Gorge.
Of course with those East winds the Columbia River Gorge brings you can windsurf and kiteboard in many areas, but Hood River has schools and lessons, equipment rentals and of course the wind.

Click here to go to Oregon's Windsuring and Kiteboarding section.
HANGGLIDING & PARAGLIDING
Oregon is known for it's tremendous outdoor fun due to the terrain of countryside. One place to

learn hanggliding and paragliding is on the Oregon Coast in Pacific City. There is some great places to go both organized and unorganized hanggliding and paragliding.
Click here to learn more about Hanggliding and Paraggliding in Oregon.
SNOW SPORTS
Many people gravitate to Oregon for their outdoor activities and a lot of the outdoor activities revolve around the mountains. One large mountain within an hour from Portland is Mt. Hood. Mt Hood has resorts and many different places for snow sports such as downhill skiing, snowboarding, snowmobiling, cross country skiing and the like.
Click here to go to Oregon's snow sport sections.
FISHING & HUNTING
Oregon has tremendous Fishing and Hunting. Arguably the best Fishing and Hunting in the world. With Vast Wildlife, Mountains & Mountain Ranges, Streams, Large and Small Rivers, Lakes, Tree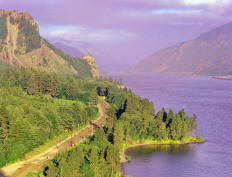 Covered Hills, Running Salmon, hatcheries and dams and incredible climates, Oregon has it all. Oregon has the cold climate, the rainy climate, the desserts and Eastern Oregon is just amazing with enough rain to give you the lush green trees and Ponderosa Pines but at the same time very little precipitation so that you can always stay warm.
WATER SPORTS
If you want places to play in the water, outside of the swimming pool, then Oregon provides tremendous opportunities for that. From motorized water sports like water skiing, wakeboarding, inner tubing, jetskiing to windsurfing, kiteboarding, kayaking, open water swimming, dragonboat racing and more, Oregon has any type of water activity for any person. If you have a creative gift for sport in the water Oregon is your place.