Portland Suburbs & Neighborhood Info

ADD TO OUR SITE?

If you would like to add additional information to this website click here and provide the information.
| | | | |
| --- | --- | --- | --- |
| County: Columbia | | | Zip Codes: 97064 |
City Description for Relocating to Portland Metro
These pages contain items about suburbs of Portland such as: employers, transportation, city housing, schools, religious affiliations, parks and recreation, entertainment, demographics, library, clubs, restaurants, sports, city history, surrounding cities and city pictures.
Vernonia, Oregon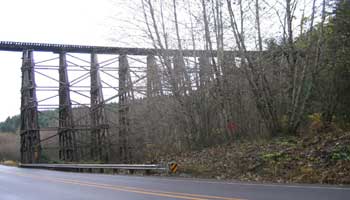 Vernonia, Oregon. This is a really neat looking railroad bridge that still works today.
Vernonia

Employment Opportunities
Employment opportunities:
Click here for a list of the large employers in Vernonia.

Transportation
The Columbia County Rider provides transportation to the area.

Housing
For listings in specific areas of Vernonia click here to e-mail pdxrelocate and we will route your e-mail to the best Real Estate Agent who exclusively serves Vernonia and qualifies under the pdxrelocate standards and practices for Real Estate Agents.

Schools
Public Schools:
Vernonia Schools:
Elementary Schools
Middle Schools
High Schools
Private Schools

Religious Affiliations
There is an abundant amount of religious affiliations in Vernonia. Click here for a list of all the churches, synagogues, temples and mosques in Vernonia, Oregon.

Park and Recreation Information
Click here for your guide to Vernonia Oregon Parks and Recreation information.

Entertainment
Scout Cabin features a large meeting room, fully equipped kitchen and adjacent gazebo. 901 Park Drive

Cedar Ridge Retreat & Conference Center, offers Amazing 300 foot slip n'slide, heated outdoor swimming pool, creek, horseshoes, bingo, croquet, walking trails, basketball, 9 hole frisbee golf course, volleyball, soccer, ping pong, campfire, nearby hiking and horseback riding. Keasey Road, Vernonia, OR 97064 Phone: 503-429-2801


Demographic
Vernonia Demographics taken from the 2000 Census.

Population was reported as 2,228, with 49.9% male and 50.1% female. The median age was 32.1. 186 or 8.3% were under 5, 1,471 or 66% were 18 years or older, and 219 or 9.8% were 65 and older. This compares to the United States in which 6.8% are under 5, 74.3% are 18 and older, and 12.4% are 65 and older.
2,125 or 95.4% White, .2% Black, 1.4% American Indian & Alaska Native, .5% Asian, .1% Native Hawaiian & other Pacific Islander, and 2.2% Hispanic or Latino.

Housing
Total housing units = 880
Occupied housing units = 789
Owner-occupied housing = 607
Renter-occupied housing = 182
Vacant housing units = 91

Social Characteristics of the population 25 years & older
84.3% high school graduate or higher
10.4% Bachelor's degree or higher
18.1% Civilian veterans 18 years and over
17.8% disability status for ages 5 and older
59.1% males 15 years and older are married
63.1% of females 15 and older are married.
Economic
60.8% of those 16 and older are working
Median house hold income is $41,181
Median family income in 1999 was $48,563
8.6% of families are below the poverty level
9.7% of individuals are below the poverty level

Library
Library is open 39 hours a week. Hours: Monday, Wednesday & Friday: 10 am to 5 pm, Tuesday & Thursday: 1 pm - 7 pm, Saturday: 10 pm - 4 pm. Phone: 503-429-1818

Clubs
Vernonia Golf Club offers an 18 hole course. 15961 Timber Road East, Vernonia, Oregon 97064. Phone: 1-800-64-GOLF (503) 429-6811

Habitat For Humanity near Vernonia. Forest Grove, Oregon: West Tuality HFH, PO Box 806, Forest Grove, OR 97116-0806 Phone: (503) 357-1201.

Saint Helens, Oregon: Columbia County HFH, PO Box 921, Saint Helens, OR 97051-0921 Phone: (503) 556-4304

Hillsboro, Oregon: Willamette West HFH, 5293 NE Elam Young, Pkwy Ste 140, Hillsboro, OR 97124-7558 Phone: (503) 844-7606

"The Friends of the Library" are a group of people who promote the library and its services and raise money through an annual Book Sale held on the Saturday of the Jamboree weekend.

Restaurants
Vernonia Restaurants:

Buckhorn Restaurant, 934 Bridge St, Vernonia, OR 97064 Phone: (503) 429-3751

New Hong Kong, 669 Mist Dr, Vernonia, OR Phone: (503) 429-5062

Mariolinos, 721 Madison Ave, Vernonia, OR Phone: (503) 429-5018

Leonettis Pizza & Grill, Vernonia, OR Phone: (503) 429-5018

Cedar Side Inn, 756 Bridge St, Vernonia, OR Phone: (503) 429-5841

Lyons Den Pub & Eatery, 733 Bridge St, Vernonia, OR Phone: (503) 429-0606

Simply Delicious, 11786 Keasey Rd, Vernonia, OR Phone: (503) 429-7700

Sports
Larry Steele Basketball Camp, PO Box 296 Vernonia, OR 97064 Phone: 503-429-2801.

Lee's U-catch, 54658 South Hwy 47, Vernonia, OR 97064. Phone: 503-429-2450.

Vernonia Golf Course is an 18 hole course. 15961 Timber Road East Vernonia, Oregon 97064. 1-800-64-GOLF (503) 429-6811

City History
Clark Parker was the first settler in the Upper Nehalem Valley. In 1874 he began homesteading on the East side of the Nehalem River. In 1875 Van Blaricom came and homesteaded along Rock Creek which is the main part of town now. Volunteers started the first road out of the upper valley to the North in 1879. It was a dirt wagon road and is known today as the 'St. Helens-Pittsburg'. In 1880 a violent windstorm followed by extraordinary snow closed all roads from fallen trees and isolated the area for months.
Vernonia has had severe weather conditions several times. The first recorded great flood was in 1895 which swamped the city. This happened again in 1996, a century later/

Mail service began in 1891. In 1920, Vernonia was the site of the Oregon-American Sawmill which was supposed to be the largest in the world. It fed logging railroads in all directions but by 1950 the timber was gone. While the timber eventually grew back the sawmill did not come back.

Vernonia was named for the daughter of one of the original settlers, Ozias Cherrington who moved there in 1876. The daughter's name was Vernona and she never even came to Oregon.

Surrounding Cities: North Plains, Gales Creek

City Pictures: Vernonia, Oregon
| | | | |
| --- | --- | --- | --- |
| Vernonia High School | Vernonia Golf Club | Vernonia Anderson Park | Railroad Bridge Structure |
| | | | |