Portland Suburbs & Neighborhood Info

ADD TO OUR SITE?

If you would like to add additional information to this website click here and provide the information.
| | | | |
| --- | --- | --- | --- |
| County: Washington | | | Zip Codes: 97125, 97109, 97106 |
City Description for Relocating to Portland Metro
These pages contain items about suburbs of Portland such as: employers, transportation, city housing, schools, religious affiliations, parks and recreation, entertainment, demographics, library, clubs, restaurants, sports, city history, surrounding cities and city pictures.
Banks, Oregon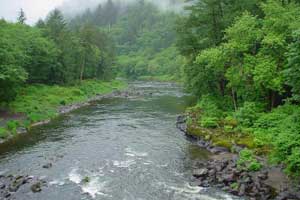 Enjoy great salmon and trout fishing on one of many rivers that runs through Banks, Oregon. The picture at the right is of the Nehalem River but you can also enjoy the Salmonberry River along. Banks is also the entry point to the coastal mountain range as well as the Oregon coast.
Banks Country City

Employment Opportunities
Employment opportunities:
Click here for a list of the large employers in Banks.

Transportation
97% of commuters drive to work. Banks being a small city, it is easy to walk or get around on bicycle. To get to downtown Portland, you could drive into Hillsboro and catch the MAX in several locations.

DMV:

Housing
For listings in specific areas of Banks click here to e-mail pdxrelocate and we will route your e-mail to the best Real Estate Agent who exclusively serves Banks and qualifies under the pdxrelocate standards and practices for Real Estate Agents.

Schools
Public Schools:
Banks Schools:
Elementary Schools
Middle Schools
High Schools
Private Schools

Religious Affiliations
There is an abundant amount of religious affiliations in Banks. Click here for a list of all the churches, synagogues and temples in Banks, Oregon.

Park and Recreation Information
Click here to access the all the parks in Banks, Oregon.

Entertainment
Regal Evergreen Parkway 13, 2625 N.W. 188th, Hillsboro, (800) 326-3264 x315
Cornelius Stadium Cinemas, 200 North 26th, Cornelius (503) 844-8732 Ext 465
Century 16 Cedar Hills Crossing, is located in Cedar Hills Crossing and is a newer state of the art theater featuring rocking seats, digital stereo sound, Lucas film THX certification and a Starcade Game room. Tickets can be purchased in advance on Fandango.com. 3200 SW Hocken, Beaverton, OR
Forest Theater is an old theater in downtown Forest Grove which shows cheap movies. 1911 Pacific Ave, Forest Grove, OR Phone (503) 359-1105
Cornelius Stadium Cinemas shows the latest box office hits. 200 N 26th Ave, Cornelius, OR Phone (503) 884-8732 Ext 465
Act III Theatres 2929 SW 234th Ave, Hillsboro, OR Phone: (503) 259-9226

Demographic
According to the 2000 census, there were 1,286 people residing in the city. The population density was 3,885.7 people per square mile. The racial makeup was 91.14 White, 3.81% Hispanic or Latino, 1.79% Asian, .39% African American, .31 Native American, and 2.8 % from other races. The median income for a household in the city was $57,500. About 3.2% of the population were below the poverty line.

Library
Banks Public Library, is part of the Washington County Cooperative Library Services. 111 Market St, Banks, OR 97106-9019, phone: (503) 324-1382

Clubs
Rotary Club of Forest Grove meets at the Forest Grove Senior Center, 2037 Douglas St., Forest Grove, OR 97116 on Tuesdays at 6:45 AM.
Hillsboro Rotory meets Wednesdays noon at the Hillsboro Country Club Clubhouse. This club is currently working on several projects and fundraisers. For more information email hillsbororotary@consolidated.net (503) 844-9778
The Elks Lodge of Forest Grove is located at 2810 Pacific Ave., Forest Grove, OR 97116. Phone: (503) 357-2440.

Restaurants
Banks Restaurants:
Banks Super Burger & Deli
351 S Main St, Banks, OR 97106-9007, phone: (503) 324-0522
Brown Derby Restaurant
181 N Main St, Banks, OR 97106-9001, phone: (503) 324-7866
Cafe Dolce
670 S Main St, Banks, OR 97106, phone:(503) 324-7226
Dairy Queen Brazier
47650 NW Sunset Hwy, Banks, OR 97106-7606, phone: (503) 324-1003
Main Street Pizza Co
680 S Main St, Banks, OR 97106-9042, phone: (503) 324-5858
Subway
667 S Main St, Banks, OR 97106-9044, phone: (503) 324-7120

Sports
Golf:
Quail Valley Golf Club, 12565 NW Aerts Road, Banks, OR 97106-0200, phone: 503-324-4444,

Baseball:
Banks Baseball

Softball:
Little League Softball Little League Softball, 6149 SW Shattuck Rd, Portland OR 97221-1044. Phone: (503) 246-1309

Coed Softball Northwest Coed Softball Northwest, 16256 SE Lillian CT Portland, OR 97267-5344. Phone: (888) 438-2448

Football:
Beaverton Youth Football, Beaverton, OR 97005. Phone: (503) 644-3773.

Tualatin Valley Youth Football Tualatin Valley Youth Football, 4840 SW Western Ave # 700 Beaverton, OR 97005-4748. Phone: (503) 644-3104

Basketball:
Hoop, has 6 full sized basketball courts and offer various basketball training opportunities, classes and programs for the entire family. 9685 SW Harvest CT, Beaverton 97005-4266. Phone: (503) 644-2191.

Katy Steding Basketball Academy Katy Steding Basketball Academy 9685 SW Harvest CT
Beaverton, OR 97005-4266. Phone: (503) 646-9147

Soccer:
Banks Youth Soccer offers registration, schedules, coaches, and more.

Hillsboro Indoor Soccer Hillsboro Indoor Soccer, 2500 SE 39th Loop, Hillsboro, OR 97123-8412. Phone: (503) 681-2255.

Swimming:
Forest Grove City Aquatic Center Forest Grove City Aquatic Center 2300 Sunset Dr. Forest Grove OR 97116-1512. Phone: (503) 992-3238

Tualatin Hills Park/Rec Distribution Tualatin Hills Park/Rec Distribution, 15707 SW Walker Rd Beaverton, OR 97006-5999. Phone: (503) 629-6360.

Tennis:
Tualatin Hills Park & Recreation District: Tennis Center Tualatin Hills Park & Recreation District:

Tennis Center
15707 SW Walker Rd., Beaverton, OR 97006-5941. Phone: (503) 629-6331 - Tennis Center thprd.org

Sunset Athletic Club Sunset Athletic Club, 13939 NW Cornell Rd, Portland, OR 97229-5404. Phone: (503) 645-3535.

West Hills Racquet Club West Hills Racquet Club, 2200 SW Cedar Hills Blvd, Portland, OR 97225-4599. Phone: (503) 646-4106.

Badminton:
Portland Badminton Club Portland Badminton Club, 7275 NW Evergreen Pkwy Hillsboro OR 97124-5851 Phone: (503) 640-8659.

Table Tennis:
Oregon Table Tennis Clubs

Paddle Palace Table Tennis Co Paddle Palace Table Tennis Co, 7637 SW 33rd Ave, Portland, OR 97219-1860. Phone: (503) 777-2266.

Volleyball:
Columbia Empire Volleyball Columbia Empire Volleyball, 4840 SW Western Ave # 100 Beaverton OR 97005-3438. Phone: (503) 644-7468.

Portland Volleyball Club Portland Volleyball Club, 16633 NE Halsey St Portland OR 97230-5609. Phone: (503) 252-5646.

City History
The town is named after Robert Banks. The Government required a submission of two names for the Post Office and St Michaels and Banks were submitted. The Government picked Banks because it was shorter. The early settlers came to Banks around 1840 and the first bank was built in 1909. In 1920, 100 Japanese families came and raised strawberries. In 1921 the town of Banks was incorporated and there was a population of 75.
The citizens of Banks are a diverse group of people. Farmers, loggers, merchants, retirees and professionals from all walks of life can be found in Banks. Agriculture and the timber industry are the prime industry of Banks but many residents commute to jobs in the Portland metropolitan area. It is truly a small town with a small town atmosphere yet close to the big city.

Surrounding Cities: Forest Grove, Hillsboro, North Plains

City Pictures: Banks, Oregon
Banks Scenery

Map to the Scary House
Wolf Creek Tunnel
Wolf Creek Trestle
Salmonberry River
Click Here For More Pictures of Banks Scenery
Quail Valley Golf

Quail Valley Entrance
Reservation Number
Water Hazard
Quail Valley Entrance
Click Here For More Pictures of Quail Valley Golf
Community Buildings

Fire Department
American Legion
Banks Elementary
Banks Junior High
Click Here For More Pictures of Community Buildings
Banks Recreation

Sunset Park
Summer Baseball
Kelly Field
Greenville Park Playground
Click Here For More Pictures of Banks Recreation
Banks Business Buildings

Bank
Napa
Performing Arts
Saloon
Click Here For More Pictures of Banks Business Buildings
Lumber Company

Lumber Company
Southern Pacific
Lumber Company
Lumber Company