Portland Suburbs & Neighborhood Info

ADD TO OUR SITE?

If you would like to add additional information to this website click here and provide the information.
| | | | |
| --- | --- | --- | --- |
| County: Clackamas | | | Zip Codes: 97013 |
City Description for Relocating to Portland Metro
These pages contain items about suburbs of Portland such as: employers, transportation, city housing, schools, religious affiliations, parks and recreation, entertainment, demographics, library, clubs, restaurants, sports, city history, surrounding cities and city pictures.
Canby, Oregon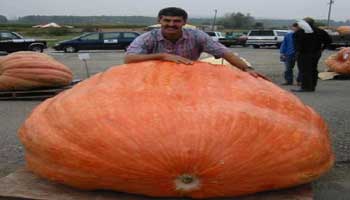 This picture at the right is at the Hoffman Dairy Farm. Here is a record pumpkin. Canby is home of many farmers and country folk. It is also a growing city and has many of the modern day luxuries like nice shopping and nice restaurants. Many retiring people flock to Canby to get out of the larger city into a quiet town with many great attributes. Surprisingly enough Canby is only a 30 minute drive to downtown Portland, just up the Interstate 5 corridor.
Canby

Employment Opportunities
Employment opportunities:
Click here for a list of the large employers in Canby.

Transportation
Canby Area Transit (CAT) provides schedules and routes. 123 NW 2nd Avenue, Canby, Oregon 97013 Phone: 503-266-4022
Cook Transportation Inc provides for airport service, limousine service, or taxi service.
1137 S Fir St, Canby, OR 97013 Phone: (503) 263-1814

Housing
For listings in specific areas of Canby click here to e-mail pdxrelocate and we will route your e-mail to the best Real Estate Agent who exclusively serves Canby and qualifies under the pdxrelocate standards and practices for Real Estate Agents.

Schools
Public Schools:
Canby Schools:
Elementary Schools
Middle Schools
High Schools
Private Schools

Religious Affiliations
There is an abundant amount of religious affiliations in Canby. Click here for a list of all the churches, synagogues, temples and mosques in Canby, Oregon.

Park and Recreation Information
Canby Parks with hiking, jogging, trails, tennis and more.

Entertainment
St Josef's Wine-Cellar is a winery. 28836 S Barlow Rd, Canby, OR 97013 phone: (503) 651-3190
Canby Depot Museum, PO Box 160, Canby, OR 97013 phone: (503) 266-6712
Steve Austin's Automobilia & Great Vacations, 1638 SE 11th Ave, Canby, OR 97013 phone: (503) 266-4079
Aurora Colony Historical Society and Ox Barn Museum. 212 2nd, Aurora, OR 97002 phone: (503) 678-5754
Cornerstone Gallery, 21690 Main St NE, Aurora, OR 97002 phone: (503) 678-7988
Canby Auto Swap and Show (seasonal), Clackamas Fairgrounds, 694 NE Fourth Avenue, Canby, OR 97013
Clackamas County Fair & Rodeo has been in operation since 1907. Clackamas Fairgrounds,
694 NE Fourth Avenue, Canby, OR 97013
Canby Theatre allows any student to audition for these shows and are given the benefit of acting, dancing
The Antonia Ballroom is ideal for many functions, including weddings, receptions, birthdays, anniversaries, reunions, holiday parties, business meetings and more! 221 N. Grant St., Canby, OR 97013 Phone: 503-263-2085
Canby Bowl is Canby's bowling alleys, 145 SW 1st Ave, Canby , OR 97013 (503) 266-9111
Closest movie theater is Act III Theatres, 29300 SW Town Center Loop W, Wilsonville , OR 97070 (503) 682-8575

Demographic
According to the 2000 census, with a total population of 12,790, 88.4% of the population was White, .5% was Black or African American, .8% was American Indian and Alaska Native, 1% was Asian, 7.5% was some other race and 1.7% was two or more races. Hispanic or Latino of any race made up 15.5% of the population.
In Canby, slightly more than the national average owned their home. There were 94.6% owner-occupied housing units compared to the national average of 91% owner -occupied. There were 5.4% vacant housing units compared to the national average of 9% vacant housing units.
While 81.5% of the population 25 years and over completed high school as compared to the national average of 80.4%, only 17.9% had a Bachelor's degree or higher as compared to 12.7% nationally.
The median household income was $45,811 compared to the national average of $41, 994. Only 7.4% of the individuals were below the poverty level while the national average was 12.4% below the poverty level.

Library
Canby Public Library features story time, book clubs, special events, and digital audio titles that you can download to your PC at home. 292 N. Holly, Canby, OR 97013. Phone: 503-266-3394.

Clubs
Canby Rod & Gun Club was established in 1888 and is a private club supporting archery, five stand, pistol, rifle, and trap shooting. 25011 S Molalla Forest Rd, Canby, OR 97013 Phone: (503) 266-2453
Willamette Valley Country Club has an18 hole, par 72 championship golf course. 900 Country Club Place Phone: (503) 266-4066
Canby Kids Inc supports team sports. 181 N Grant St Ste 215, Canby, OR 97013 (503) 266-5437
Frontier Golf Course offers an inexpensive way to play golf utilizing pasture land. Fees are $6.50 - $7.50. 2965 N Holly St Canby, OR 97013 (between downtown Canby and the Canby ferry) Phone: 503-266-4435
Valley Volkswalkers of Canby can be contacted at valleyvwalk@yahoo.com. Club meetings are at 7:00pm on the second Thursday of each month in the meeting room of the Canby Utility Building, 154 NW 1st, Canby, Oregon. Everyone is welcome!!
Kiwanis Club of Canby perform voluntary community service through committees. Club meets Monday noon at "Old Town Hall" above Thriftway. PO BOX 174, Canby OR 97013
Clackamas Kennel Club aspires to protect and advance the interests of all breeds of pure-bred dogs and to encourage sportsman like competition at dog shows and obedience trials. Meetings are scheduled on the second Tuesday of the month, 7:30 pm, at Clackamas Event Center, Canby, Oregon.
Canby Swim Club (CB) is a year round competitive swim club.
Canby Cloverleafs 4-H Dance Club. Membership is open to kids in the
4th grade through HS Seniors. Call Ann 503-266-1321
Canby Volleyball Club serves young women in and around the Canby area who are between the ages of 9 and 18. It is a non profit organization
AMERICAN LEGION, 424 NW 1ST AVE, CANBY, OR 97013-3532
CANBY BOOSTER CLUB INC, PO BOX 301, CANBY, OR 97013-0301
CANBY ROTARY FOUNDATION INC, PO BOX 1008, CANBY, OR 97013-1008
CLACKAMAS COUNTY ASSOCIATED CHAMBERS OF COMMERCE, PO BOX 35, CANBY, OR 97013-0035
FRIENDS OF CANBY ADULT CENTER INCORPORATED, PO BOX 10, CANBY, OR 97013-0010
HOPE VILLAGE FOUNDATION INC, 1535 S IVY ST, CANBY, OR 97013-4334
FUTURE FARMERS OF AMERICA AND ITS STATE ASSOCIATIONS & LOCAL CHAPTER,
PO BOX 695 CANBY, OR 97013-0695
JOBS DAUGHTERS INTERNATIONAL, 280 NW 1ST AVE, CANBY, OR 97013-3622
MARKS PRAIRIE COMMUNITY CLUB, 27639 S PELICAN CT, CANBY, OR 97013-9543
NORTHWEST YOUTH RODEO ASSOCIATION, PO BOX 104, CANBY, OR 97013-0104
NORTH VALLWY X-PLOSION FASTPITCH INC, 1304 S BIRCH CT, CANBY, OR 97013-4062
REPTILE WORLD ZOO INC, 11264 E MACKSBURG RD, CANBY, OR 97013-0000

Restaurants
Canby Restaurants:
Los Dorados offers casual dining at an economical price. 1011 SW 1st Ave, Canby, OR 97013 Phone: (503) 263-3940
Rice Time offers economical Korean food at an economical price. Take-out is available. 356 NW 1st Ave, Canby, OR 97013 Phone: (503) 266-2623
El Chilito serves authentic Mexican food and homemade guacamole. It is a very tiny restaurant with just 2 tables and a small counter and some outdoor seating. 403 SW 1st Ave, Canby, OR 97013 Phone: (503) 266-4966
Nuevo Vallarta is a casual kid friendly restaurant that offers take-out. 1385 SE 1st Ave, Canby, OR 97013 Phone: (503) 266-1782
Fultanos Pizza has a cornmeal crust, fair prices, and a lunch buffet. 715 SE 1st Ave, Canby, OR 97013 Phone: (503) 266-1444
Biscuits Café is a breakfast and brunch café. 102 N Ivy Street, Canby, OR 97013 Phone: (503) 266-1441
Canby Pub and Grill. 211 N Grant St, Canby, OR 97013 Phone: (503) 263-6666

Sports
Canby United Soccer Associationfor information, online registration, contact information.
Post Office Box 861, Canby, Oregon 97013 Voice mail 503-266-5448
Canby Baseball Junior Baseball and Coed T-Ball for registration online and printable brochure.
Canby Youth Football for registration, bylaws, and calendar.
Canby Wildcats Fastpitch Softball for registration, photo gallery, and calendar
Canby Yourth Lacrosse for registration, contact information, coaches
Canby Swim Club for information on joining, tryout program, contact information

City History
The area of Canby was once known as Baker Prairie and was a seasonal meeting place for tribes of local Indians. It was known for its wild strawberries. In 1838, James Baker arrived to the area with a cattle drive and began farming. In 1848 Anna Lee bought squatters rights and began growing apples on 80 acres of land. She began shipping her apples to the California gold miners. Two years later Lee gained title to 647 acres through a donation Land Claim Act. This brought in many settlers to the area through the Oregon Trail. In 1868, Joseph Knight and his four sons came to Baker Prairie and were very instrumental in the development of the city by opening the first general store. They also build many businesses and held a variety of jobs such as postmaster, sheriff, druggist, blacksmith, carpenter, and school clerk. You can still see William Knight's 1874 home at 524 SW Fourth and the 1890 Knight building on NW First which used to serve as the meeting place for the City Council.
At this time the Willamette River was the main source of transportation. Steamboats would take Baker Prairie produce to Oregon City and Portland. Eventually, Lee and Knight sold some of their land to the railroad.
Canby is named after Edward Richard Sprigg Canby, a general in the Civil War who came to Oregon to assume command of the US Army's Department of the Columbia. Ben Holladay, Canby's friend and Chief of the Oregon/ California railroad, gave the town it name Canby when it was incorporated on February 15, 1893.

Surrounding Cities: Mollalla, Mulino, Wilsonville, Woodburn, Aurora, Gervais

City Pictures: Canby, Oregon
| | | | |
| --- | --- | --- | --- |
| Canby Welcome Sign | Canby Gun Club | Dalia Fields | Canby Church |
| | | | |