Portland Suburbs & Neighborhood Info

ADD TO OUR SITE?

If you would like to add additional information to this website click here and provide the information.
| | | | |
| --- | --- | --- | --- |
| County: Columbia | | | Zip Codes: 97048 |
City Description for Relocating to Portland Metro
These pages contain items about suburbs of Portland such as: employers, transportation, city housing, schools, religious affiliations, parks and recreation, entertainment, demographics, library, clubs, restaurants, sports, city history, surrounding cities and city pictures.
Rainier, Oregon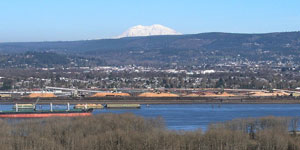 Rainier is located on the Columbia River and lies across from Longview, Washington. The Lewis and Clark Bridge is two miles downstream from Rainier and connects Rainier and Longview.

Employment Opportunities
Employment opportunities:
Click here for a list of the large employers in Rainier.

Transportation
There is no mass transit in Rainier, Oregon. The average one-way commute in Rainier (zip 97048), OR, takes 33 minutes. 85% of commuters drive their own car alone. 10% carpool with others. 0% take mass transit and 3% work from home.

Rainier Heliport is a private heliport located 3 miles west of Rainier

Closest DMV for registering vehicle, driving tests, etc. St. Helens DMV, 500 N Columbia River Hwy, Suite 400, St. Helens, OR 97051.

Columbia County Transportation, Coordinated Human Services, Public Transportation Plan

Housing
According to the 2000 census bureau there were 737 housing units in Rainier. 549 were detached one unit structures, 15 were attached one unit, 42 were 2 unit structures, 27 were 5-9 units, 11 were 10-19 units, 23 were 20 or more units, 46 were mobile homes, and 3 housing units consisted of a boat, RV, van, etc.

The age of the structures consisted of 5 built between 1999-2000, 61 were built between 1995 and 1998, 26 were built between 1990-1994, 48 were built between 1980-1989, 110 were built between 1970-1979, 84 were built between 1960-1969, 93 were built between 1940-1959, and 310 were built in 1939 or earlier.

For listings in specific areas of Rainier click here to e-mail pdxrelocate and we will route your e-mail to the best Real Estate Agent who exclusively serves Rainier and qualifies under the pdxrelocate standards and practices for Real Estate Agents.

Schools
Public Schools:
Rainier Schools:
Elementary Schools
Middle Schools
High Schools
Private Schools

Religious Affiliations
There is an abundant amount of religious affiliations in Rainier. Click here for a list of all the churches, synagogues, temples and mosques in Rainier, Oregon.

Park and Recreation Information
Click here for your guide to Rainier Oregon Parks and Recreation information.

Entertainment
Closest Movie Theaters
Regal Triangle Cinemas 4, 1228 Washington Way, Longview, WA 98632 Phone: (800) 326-3264
Regal Three Rivers Mall 5, 1301 Grade Street, Kelso, WA 98626 Phone: (800) 326-3264
Triangle Bowl 2010 12th Ave, Longview, WA 98632 Phone: (360) 425-4060
Outdoor activities
Camp Wilkerson Park offers tent sites, horse corral, lodge with cooking facilities and much more. 65866 Apiary Market Rd, Rainier, OR 97048 Phone: (503) 556-3536
Hudson-Parcher Park offers fields, campsites, and easy access to fishing, boating and windsurfing in the nearby Columbia River. 75503 Larson Road, Rainier, Oregon Phone: (503) 397-2353 For Reservations Call (503) 366-3984
Laurel Beach is located 1.5 miles south of Rainier on U.S. 30 onto Laurelwood Road. Travel 1/4 mile, and turn right onto Laurel Beach Road. Follow to beach parking lot. Laurel Beach is a day-use facility offering fishing and bird viewing. Gate opens one hour before sunrise, and closes one hour after sunset. Phone: (503) 397-2353
Prescott Beach offers one of the Columbia River's finest fishing and windsurfing sites. Amenities include: covered picnic shelter, playground equipment, a gazebo, a horse shoe pit and sand volleyball courts. Prescott is day-use only, opening one hour before sunrise and closing one hour after sunset. 73125 Prescott Beach Drive, Rainier, Oregon Phone: (503) 397-2353 For Reservations Phone: (503) 366-3984. Located 14 miles north of St. Helens, and five miles south of Rainier. Turn off U.S. 30 onto Graham Road. 1.75 miles to park entrance.

Demographic
According to the 2000 census, the population in Rainier was 1,687. 7% were under age 5, 7.2% were between 5-9 years, 7.8% were between 10-14 years, 6.8% were between 15-19, 6.3% were between 20-24, 12.2% were between 25-34, 13.6% were between 35-44, 16.1% were between 45-54, 5.3% were between 55-59, 4.7% were between 60-64, 6.9% were between 65-74, 4.7% were between 75-84, and1.4% were 85 and older.

Race consisted of the following: 92.8% were White, .1% was Black or African American, 1.5% American Indian & Alaska Native, .4% were Asian, .2% were Native Hawaiian, and 1.4% were some other race.
For the population 25 years and older, 2.7% had less than a 9th grade education, 10% had a 9-12th grad education with no diploma, 37.7% were high school graduates or equivalent, 28% had some college, 7.1% had an Associate degree, 8.7% had a Bachelor's degree, and 5.9% had a graduate or professional degree.
Out of 655 households in 1999, 48 claimed to have an income of less than $10,000, 46 had incomes between $10,000-$14,900, 80 between $15,000-$24,999, 81 between $25,000-$34,999, 131 were between $35,000 - $49,999, 150 were between $50,000 - $74,999, 63 were between $75,000-$99,999, 50 households income were between $100,000-$149,999, 6 were between $150,000-$199,999 and no one reported more than $200,000.

Library
Rainier City Library, HOURS Mon-Thr: 9:30-5:00. Fri: 10:00- 5:00. 106 East B Street, Rainier Phone: (503) 556-7301

Clubs
Rainier Eagles, 109 A St W, Rainier, OR 97048 Phone: (503) 556-2035
1414 Club is to help people through a 12 step program for recovery from substance abuse. 1414 12th Ave, Longview, WA 98632 Phone:(360) 425-7260
Rainier Rod and Gun Club offers shooting contests and safety classes, PO Box 596, Rainier, OR 97048
Rainier Garden Club is an active organization with over 50 members. Members meet at 9:30 a.m. on the first Wednesday of every month, except January, at the United Methodist Church, 1st & West C Streets, Rainier, Oregon 97048. Address: PO Box 492 Rainier, OR 97048 phone:503-556-0978

Clatskanie Chess Club offers tournaments and classes. 555 SW Bryant Street, Clatskanie OR 97016 Phone (503) 308-8011

Clatskanie Kiwanis Club

Restaurants
Rainier Restaurants:

El Tapatio Authentic Mexican, 117 W A St, Rainier, OR 97048 Phone: (503) 556-8323

Cornerstone Restaurant, PO Box 910, Rainier, OR 97048 Phone: (503) 556-8772

Bridgeview Deli, 29389 Washington Way, Rainier, OR 97048 Phone: (503) 556-6165

Luigi's Pizza, 119 1st St, Rainier, OR 97048 Phone: (503) 556-4213

Kandi's Koffee's, 319 W B St, Rainier, OR 97048 Phone: (503) 556-8209

Deli Store, 75724 Rock Crest St, Rainier, OR 97048 Phone: (503) 556-8091

Grama's Place, 218 W B St, Rainier, OR 97048 Phone: (503) 556-2233

Sports
Rainier little league

Rainier Clatskanie Youth Soccer Club

Triangle Bowl, 700 Triangle Shopping Center, Longview, WA Phone: (360) 425-4060

Briarcliff Pool is an indoor 25 yard pool offering lessons, swim teams, and water aerobics. 28170 Old Rainier Rd., Rainier, Oregon, 97048, United States Phone: 503-556-4217

Mint Valley Racquet & Fitness Club offers a nice tennis program and more. 4004 Pennsylvania St, Longview, WA Phone: (360) 636-4770

City History
Rainier was founded by Charles Fox in 1851 and was called Eminence. The name was changed to Fox's Landing, and then to Rainier after Mount Rainier which is visible from the northeast. In 1854 lumber was produced by a large steam sawmill built by F.M. Warren. They produced the lumber for home and buildings of other settlers. Rainier was incorporated in 1885. In the last quarter of the twentieth century most of Oregon knew Rainier as the home of the Trojan Nuclear Power Plant which was the only commercial nuclear reactor in the state. The cooling tower was demolished on May 21, 2006 and with the closing of the plant there came a decline in the number of businesses still in town.

Surrounding Cities: Hillsboro, Forest Grove, Beaverton

City Pictures: Rainier, Oregon
| | | | |
| --- | --- | --- | --- |
| View from Rainier | Rainier City Hall | Rainier Lewis & Clark Bridge | Rainier City Park Memorial |
| | | | |