Portland Suburbs & Neighborhood Info

ADD TO OUR SITE?

If you would like to add additional information to this website click here and provide the information.
| | | | |
| --- | --- | --- | --- |
| County: Washington | | | Zip Codes: 97140 |
City Description for Relocating to Portland Metro
These pages contain items about suburbs of Portland such as: employers, transportation, city housing, schools, religious affiliations, parks and recreation, entertainment, demographics, library, clubs, restaurants, sports, city history, surrounding cities and city pictures.
Sherwood, Oregon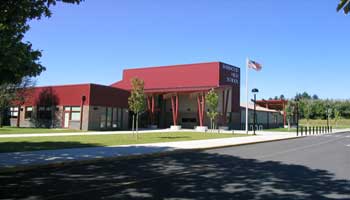 The Tualatin Indians were the first people to roam the Sherwood area. The first wagon train arrived in Oregon in 1843 and by 1853 Sherwood was being settled by farmers. In 1885, J.C. Smock gave the railroad the right-of-way through his property and the area became known as Smockville. The main industry for the area in the early 1890's was building bricks which were used in most of Portland's buildings at the time. The brickyard closed in 1895 and fruit and vegetable cannery and tannery became the main industry until 1971. The city's main industry now is manufacturing.

Employment Opportunities
Employment opportunities:
Click here for a list of the large employers in Sherwood.

Transportation
Sherwood DMV. Available at this Location: Vehicle Title & Registration Transactions, Registration Renewal, Trip Permits, Vehicle Identification Number (VIN) Inspections, Knowledge Testing, Driver Licenses: Original, Duplicate & Renewal, Identification Cards: Original, Duplicate & Renewal, Reinstatements & Rescinds, Accident Reports, Change of Address & Voter Registration, Record Purchases, Information, Regular Driver License (Class C) Drive Tests – by appointment only, Commercial Driver License and (CDL) Drive Tests – by appointment only. 14240 SW Galbreath Dr, Sherwood, OR 97140 Phone: (503) 299-9999 Park and Ride
TriMet bus route from Sherwood to Portland.
Park & Ride-Sherwood Regal Cinemas, 15995 SW Tualatin Sherwood Rd, Sherwood, OR 97140 Phone: (503) 238-7433
Park & Ride-Sherwood, 22550 SW Main St, Sherwood, OR 97140 Phone: (503) 238-7433

Housing
For listings in specific areas of Sherwood click here to e-mail pdxrelocate and we will route your e-mail to the best Real Estate Agent who exclusively serves Sherwood and qualifies under the pdxrelocate standards and practices for Real Estate Agents.

According to the 2000 census, Sherwood had 4,456 housing units. 73.1% were detached single units, 4.2% were attached single units, 2.4% were double units, 4.6% were 3-4 units, 5.0% were 5-9 units, 1.3% were 10-19 units, 3.5% were 20 or more units, and 5.8% were mobile homes. 52% of the building structures were built between1995-1998. 14.1% were build from 1990-1994, 10.1% were built from 1970-1979, 6.8% were build from 1999 to March 2000, 5.3% were built from 1980-1989, 3.5% were built from 1940-1959, and 3.5% were build from 1939 or earlier. The median value of an owner occupied home was $187,500. The gross rent for renters was 4.2% paid less than $200/ month, 1.7% paid between $200-$299, 7.9% paid between $300-$499, 37.3% paid between $500-$749, 20.9% paid between $750- $999, and 24.4% paid between $1000-$1,499.

Schools
Public Schools:
Sherwood Schools:
Elementary Schools
Middle Schools
High Schools
Private Schools

Religious Affiliations
There is an abundant amount of religious affiliations in Sherwood. Click here for a list of all the churches, synagogues, temples and mosques in Sherwood, Oregon.

Park and Recreation Information
Click here for your guide to Sherwood Oregon Parks and Recreation information.

Entertainment
Regal Sherwood 10, 15995 Tualatin Sherwood Rd, Sherwood, OR 97140 Phone: (503) 925-1474
Sherwood Saturday Market is located on the sidewalk next to City Hall and the Library, Sherwood, OR 97140
Sherwood Senior Center provides programs and services in the areas of education, creative arts, recreation, leadership, health, nutrition, volunteer opportunities, and social work. 21907 SW Sherwood Boulevard Sherwood, OR 97140 phone:503-625-5644
Cruisin' Sherwood is an annual classic and custom car show with over 650 cars and 17,000 spectators.

Demographic
According to the 2000 Census, the total population of Sherwood was 11,791. 48.8% were male and 51.2% were female. 11.5% were under 5, 9.6% were from 5-9 years old, 7.1% were 10-14 years old, 5% were 15-19, 4% were 20-24, 22.2% were 25-34, 18.9% were 35-44, 10.8% were 45-54 years, 3.4% were 55-59%, 2.3% were 60-64, 3.0% were 65-73, 1.8% were 75-84, and .5% were 85 and older. The racial make-up was 92.4% White, .4% Black or African American, .5% American Indian and Alaska Native, 2.2% were Asian, and 1.8% was of some other race.
7.725 people were aged 25 and older. Of those 1.4% had less than a 9th grade education, 4.5% went to school in the 9th -12th grade but had no high school diploma, 20.1% were high school graduates or equivalency, 29.4% had some college but no degree, 9% had an associate degree, 28.2% had a Bachelor's degree, and 7.4% had a graduate or professional degree.
The median household income was $62,518 and the median family income was $67,277. The average male full-time income was $47,920 and the median full-time female was $33,657.

Library
Sherwood Public Library has many programs even including a read to the Dogs program sponsored by Dove Lewis Emergency Animal Hospital. 22560 SW Pine St., Sherwood, OR 97140 Phone: 503-625-6688

Clubs
Sherwood Robin Hood Elks Lodge Number 2342 has a bar, restaurant, large parking area and 22 RV parking, game room, picnic area, BBQ pit, dance floor, children's room, and conference room. Location: 22770 SW Elwert Rd. Sherwood, Oregon (at the corner of Highway 99w and SW Elwert Rd.) Meets: Tuesdays at 7:30 pm Office Phone: 503-625-7888

American Legion Argonne Post #56, Address: PO Box 532, Sherwood, OR 97140 Phone: 503 625-5889

Boy Scouts Troop 116 Eric Holstrom, Scoutmaster, Meetings at St. Paul Lutheran Church Old School Monday evenings at 7:00 pm Phone: 503 692-5676

Boy Scouts Troop 256 Steve Muir, Scoutmaster Phone: 503 692-3794

Boy Scouts Troop 224 Meeting at Friends Church Monday evenings at 7:00pm Jim Churchill, Scoutmaster Phone: 503 925-0999

Cat Adoption Team, Address: 14175 SW Galbreath Dr Phone: 503 925-8803 Email: contactus@catadoptionteam.org

Cub Scouts Pack 713 Meeting at Sherwood Middle School Last Tuesday of Month at 7:00pm Doug Muller, Cubmaster Phone: 503 628-0913

Cub Scouts Pack 737 Meeting at Middleton Elementary School Last Tuesday of Month at 6:30pm Glenn Geiger, Cubmaster Phone: 503 625-1960

Cub Scouts Pack 710 Meeting at Archer Glen Elementary School Last Tuesday of Month at 7:00pm Chris Brooks, Cubmaster Phone: 503 625-5373

Friends of the Tualatin River National Wildlife Refuge Address: 16507 S.W. Roy Rogers Road, Sherwood, OR. Phone:503 972-7714

Interact Club of Sherwood High School Meeting at Sherwood Senior Center Monday monrnings at 7:00am Josh Parrish, Club President 503 625-9119 Ty Richards, Rotarian Advisor Phone: 503 625-2403

Girl Scouts Kris Smith, 503 244-0248 Billie Panasewich, 503 639-6352

MOMS Club of Sherwood-West, Oregon Address: PO Box 717 Sherwood, OR 97140 Phone: Jennifer 503 625-9868 or Kristen 503 925-0557 (Co-Membership Directors) Phone: Sena 503 625-1677 or Debra 503 925-1696 (Co-Presidents)

Police Activities League (PAL) Dusky Steyaert/President, 503 925-9753 Paul Arrigoni/Co-President Nathan Powell/Board Secretary, 503 625-5523

Robin Hood Community Theatre Stacie Gordon (President) Voicemail: 503 625-3716 E-mail: rhtheater@yahoo.com

Robin Hood Festival Association Address: PO Box 496, Sherwood, OR 97140 Phone: 503 625 4233 Fax: 503 625-6932 Email: clyde@clydeburger.org

Sherwood Area Chamber of Commerce Address: 16091 SW Railroad St., Sherwood, OR 97140 Phone: 503 625-7800 Email: chamber@sherwoodchamber.org

Sherwood Family YMCA Address: 23000 SW Pacific Hwy., Sherwood, OR 97140 Phone: 503 625-YMCA

Sherwood High School Moms and Dads Club Address: 23832 SW Golden Pond Ter., Sherwood, OR 97140 Phone: 503 625-5257 Email: shsmomsanddadsclub@yahoo.com

Sherwood Historical Society & Heritage Center Located in Veterans Park, Old Town Sherwood
Phone: 503 625-1236

Sherwood Merrywalkers - Walking Club (AVA, IVV, OTSVA affiliated) Meets at Sherwood YMCA 1st Monday of each month @ 7:00pm Renette Meltebeke, President 503 625-7513 Laura St. George, Membership 503 625-0777 Email: merrywalkers@verizon.net

Sherwood Lions Address: PO Box 455, Sherwood, OR 97140 Phone: 503 625-7837

Sherwood Robin Hood Elks Lodge #2342 22770 SW Elwert Road Phone: 503-625-7888 Lodge meeting every Tuesday evening at 7:30 pm

Sherwood Rotary Club Phone: 503 625-2403

Sherwood School District Special Programs Lisa Darnold, 625-8136

Sherwood Senior Center Marjorie Stewart Senior/Community Center Address: 21907 SW Sherwood Blvd. Sherwood, OR 97140 Phone:503 625-5644 Email: peggi.federspiel@verizon.net

Sherwood Youth Foundation Address: PO Box 262, Sherwood, OR 97140

St. Francis Food Bank Address: PO Box 279, Sherwood, OR 97140 Phone: 503 625-7067

Stop Hunger and Poverty Now Address: 30656 SW Ladd Hill Rd, Sherwood, OR 97140

Tualatin River National Wildlife Refuge Office: 16340 SW Beef Bend Rd., Sherwood, Oregon 97140 Phone: 503 590-7714

Restaurants
Sherwood Restaurants:

Chinese Panda Restaurant, 16370 SW Langer Dr, Sherwood, OR 97140 Phone: (503) 625-8585

Mazatlan Mexican Restaurant, 16055 SW Tualatin Sherwood Rd, Sherwood, OR 97140 Phone: (503) 925-9723

Rose's Restaurant & Bakery, 16015 SW Tualatin Sherwood Rd, Sherwood, OR 97140 Phone: (503) 925-1060

Mazanillo Restaurant, 20403 SW Borchers Dr, Sherwood, OR 97140 Phone: (503) 925-1470

Shari's Restaurants, 16280 SW Langer Dr, Sherwood, OR 97140 Phone: (503) 625-5510

Crazy Sushi Restaurant, 16055 SW Tualatin Sherwood Rd Ste 250, Sherwood, OR 97140 Phone: (503) 625-7101

Abella Italian Kitchen, 8309 SW Main St Suite 200, Wilsonville, OR 97070 Phone: (503) 582-1201

Sports
Baseball
Sherwood Junior Baseball Organization, P.O. Box 605, Sherwood, Oregon 97140 Phone: 503-925-8264

Soccer
Sherwood Regional Family YMCA offers indoor soccer leagues for boys and girls 3-6 and basketball leagues for youth 3-8. 23000 SW Pacific Highway Sherwood, Oregon 97140
Phone 503.625.9622

Football
Flag Football league offers two locations, Tualatin Elementary School and Palisades Elementary School in Lake Oswego. You can register at http://www.mvpsl.com or call 503-866-7905 with any questions.

Tennis
Charbonneau Tennis Club, 31790 Charbonneau Dr, Wilsonville, OR 97070 (503) 694-1130

Volleyball
Columbia Empire Volleyball Association (CEVA), 4840 SW Western Ave, Suite 450 • Beaverton, OR 97005 (503) 644-7468

Underdog Sports Leagues are adult sports leagues for flag football, bowling, dodgeball, kickball, mini golf, volleyball, and softball.

Swimming
Oregon Master's Swimming, a branch of USMS Master's Swimming, is for adult fitness swimmers as well as competitive swimmers and triathletes. Their website includes all the teams registered in Oregon and schedule of meets and open water swims, as well as newsletters.

The YAWAMA Dragons is the YMCA swim team. . 23000 SW Pacific Highway Sherwood, Oregon 97140 Phone 503.625.9622

Bowling
Portland Bowling Association

Local Bowling Centers

City History
The Tualatin Indians were the first people to roam the Sherwood area. The first wagon train arrived in Oregon in 1843 and by 1853 Sherwood was being settled by farmers. In 1885, J.C. Smock gave the railroad the right-of-way through his property and the area became known as Smockville. The main industry for the area in the early 1890's was building bricks which were used in most of Portland's buildings at the time. The brickyard closed in 1895 and fruit and vegetable cannery and tannery became the main industry until 1971. The city's main industry now is manufacturing.

Sherwood was indirectly named for the Sherwood Forest in England. It was first incorporated as a town in 1893. The Sherwood Heritage Center is located at 22552 Park Street in Sherwood and is open on Wednesdays and Saturdays from 1-4. Phone: 503-625-1236

Surrounding Cities: Tualatin, Wilsonville, Newberg

City Pictures: Sherwood, Oregon
| | | | |
| --- | --- | --- | --- |
| Sherwood High School | Sherwood Map | Sherwood Public Library | Snyder Water Park |
| | | | |