Portland Suburbs & Neighborhood Info

ADD TO OUR SITE?

If you would like to add additional information to this website click here and provide the information.
| | | | |
| --- | --- | --- | --- |
| County: Clackamas | | | Zip Codes: 97068, 97034 |
City Description for Relocating to Portland Metro
These pages contain items about suburbs of Portland such as: employers, transportation, city housing, schools, religious affiliations, parks and recreation, entertainment, demographics, library, clubs, restaurants, sports, city history, surrounding cities and city pictures.
West Linn, Oregon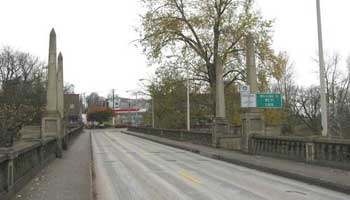 Welcome to West Linn, Oregon. Just proceed over this bridge and you're in!
West Linn

Employment Opportunities
Employment opportunities:
Click here for a list of the large employers in West Linn.

Transportation
DMV:

Trimet: Are you without a vehicle? Click here to map your transportation route. Public Transportation: TriMet is the public transportation system for the Portland Metropolitan area. They provide busses, light rail, commuter rail, and street car.

Housing
For listings in specific areas of West Linn click here to e-mail pdxrelocate and we will route your e-mail to the best Real Estate Agent who exclusively serves West Linn and qualifies under the pdxrelocate standards and practices for Real Estate Agents.

Schools
Public Schools:
West Linn Schools:
Elementary Schools
Middle Schools
High Schools
Private Schools

Religious Affiliations
There is an abundant amount of religious affiliations in West Linn. Click here for a list of all the churches, synagogues, temples and mosques in West Linn, Oregon.

Park and Recreation Information
Click here for your guide to West Linn Oregon Parks and Recreation information.

Entertainment
Gladstone Lanes are close bowling lanes, 20100 Mcloughlin Blvd, Gladstone, OR 97027 Phone: (503) 656-4266

Regal Hilltop 9 is a close movie theater, 325 Beavercreek Rd, Oregon City, OR Phone: (503) 650-2885

West Linn park and recreation with listing of events.

Demographic
According to the 2005-2007 census, the population of West Linn was 26,356; of those 1,257 were under 5; 1,883 were 10-14; 1,915 were between 15-19; 942 were 20-24; 3,381 were 25-34; 3,768 were 35-44; 4,736 were 45-54; 2,664 were 55-59; 1,029 were 60-64; 1,266 were 65-74; 944 were 75-84; and 254 were 85 and older. There were 9,600 households, 75% were families and 25% were non family households. Ninety-seven percent of the people 25 years of age or older had graduated from high school and 56% of those also had a bachelorís degree or higher. Three percent were high school dropouts. School enrollment was 8000 with 790 in nursery school or kindergarten, 5,200 in grades 1-12, and 2,000 in college or graduate school.

There were 10,000 housing units, 83% were single-units and 16% were multi-units, and less that .5 % were mobile homes. Forty-five percent of the housing units were built since 1990 and 6% of all units were vacant. The most common occupations for residents were in management and other related professional occupations, followed by sales and office occupations, followed by service occupations and construction.

Library
West Linn Public Library, 1595 Burns St, West Linn, OR 97068-3231 Phone: (503) 656-7853

Clubs
Moms Club of West Linn offers support for moms.

West Linn Lions Club meets at Willamette Christian Church 3153 S Brandywine Drive West Linn, OR 97068

The Dog Club of West Linn is a place where you can wash your dog. 18675 Willamette Dr
West Linn, OR 97068 Phone: (503) 635-3523

West Linn Garden Clubs is one of the oldest clubs in the state.

Rotary Club of West Linn meets on Wednesday at 12:00PM at West Linn Lutheran Church
20390 Willamette Drive (Highway 43)

Restaurants
West Linn Restaurants:

Thai Orchid Restaurant, 18740 Willamette Dr, West Linn, OR Phone: (503) 699-4195

Bugatti's Ristorante of West Linn, 18740 Willamette Dr, West Linn, OR Phone: (503) 636-9555

Five O Three, 21900 Willamette Dr # 201, West Linn, OR Phone: (503) 607-0960

McMenamins, 2090 8th Ave, West Linn, OR Phone: (503) 656-2970

Essence of China, 1727 Willamette Falls Dr, West Linn, OR Phone: (503) 656-6578

Lil' Cooperstown Inc, 1817 Willamette Falls Dr, West Linn, OR Phone: (503)655-2250

Centanni, 22000 Willamette Dr # 101, West Linn, OR Phone: (503) 722-9022

Philadelphia's Steaks, 18625 Willamette Dr, West Linn, OR Phone: (503) 699-4130

Shari's Restaurant, 2180 8th Ct, West Linn, OR Phone: (503) 722-8750

Pasta's Restaurant & Lounge, 21980 Willamette Dr, West Linn, OR Phone: (503) 656-7606

Twisted Comfort Rest Pub, 21450 Salamo Road, West Linn, OR Phone: (503) 908-0190

Bellagios Pizza, 1880 Willamette Falls Dr, West Linn, OR Phone: (503) 557-1406

Ixtapa Mexican Restaurant, 2000 8th Ave, West Linn, OR Phone: (503) 657-5431

Sports
Youth Football for grades 3 through 8 in West Linn, Oregon.

Willamette United Soccer Club

West Linn Softball

West Linn Youth Basketball

West Linn Lacrosse

West Linn Girls Basketball

West Linn Rugby

City History
Robinís Nest is the name Robert Moore gave to the town he built in 1840. He purchased the land from the Wallamut Indians and built a cabin, flour and lumber mills, and places for his workerís to live. In 1845, he changed the name to Linn City after his friend Dr. Lewis Linn the U.S. senator from Missouri.

Moore dies in 1857 and shortly after there was a fire burnt down the sawmill, gistmill, and even a ship that was docked. Business men built back some of the city but then a year later floods destroyed their work. In 1868, the Willamette Transportation Locks Co. started operation and they are still in operation today. In 1913, West Linn was incorporated

Surrounding Cities: Oregon City, Tualatin, Lake Oswego

City Pictures: West Linn, Oregon
| | | | |
| --- | --- | --- | --- |
| West Linn Skate Park | West Linn High School | West Linn Bridge Entrance | West Linn Oregon Bridge |
| | | | |