Portland Suburbs & Neighborhood Info

ADD TO OUR SITE?

If you would like to add additional information to this website click here and provide the information.
| | | | |
| --- | --- | --- | --- |
| County: Clackamas | | | Zip Codes: 97009, 97089 |
City Description for Relocating to Portland Metro
These pages contain items about suburbs of Portland such as: employers, transportation, city housing, schools, religious affiliations, parks and recreation, entertainment, demographics, library, clubs, restaurants, sports, city history, surrounding cities and city pictures.
Boring, Oregon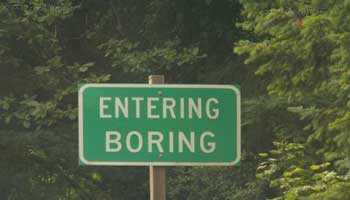 Welcome to Boring, Oregon's information page. Boring is an up and coming city with a wood mill and some newer stores. Boring is the gateway to Sandy, Oregon and the Mount Hood National Forest District.
Boring

Employment Opportunities
Employment opportunities:
Click here for a list of the large employers in Boring.

Transportation
Most people in Boring drive their own cars but if you have needs to get to the city of Portland you can commute to Sandy and take Mass Transit to the Portland International Airport or downtown Portland or even to Hillsboro and numerous other surrounding areas.

SAM, Sandy Area Metro offers transit from Sandy to Gresham which can connect you to TriMet, the main transportation department in the Portland Metropolitan Area.

TriMet

Housing
For listings in specific areas of Boring click here to e-mail pdxrelocate and we will route your e-mail to the best Real Estate Agent who exclusively serves Boring and qualifies under the pdxrelocate standards and practices for Real Estate Agents.

Schools
Boring Schools:
Elementary Schools
Middle Schools
High Schools
Private Schools

Religious Affiliations
There is an abundant amount of religious affiliations in Boring. Click here for a list of all the churches, synagogues, temples and mosques in Boring, Oregon.

Park and Recreation Information
Click here for your guide to Boring Oregon Parks and Recreation information.

Entertainment
The Reptile Man, 31265 SE Highway 26, Boring Phone: (503) 824-6423

Mountain View Golf Course, 27195 Southeast Kelso Road, Boring, OR Phone: (503) 663-4869

Oregon Paintball, 40 Northwest 2nd Street, Gresham, OR Phone: (503) 666-7930

Mt Hood Lanes, 2311 East Powell Boulevard, Gresham, OR Phone: (503) 492-9820

Sandy Cinema, 16605 Champion Way, Sandy, OR Phone: (503) 826-8100

Demographic
According to the 2000 census for zip code 97009, the population was 12,851. 93.3% were White, .3% were Black, .8% were American Indian and Alaska Native, 1.6% were Asian, .1% were Native Hawaiian and Other Pacific Islanders, and 2% were from some other race. The population 25 years and older reported 87.1% had a high school education or higher and 21% had a Bachelor's degree or higher. The median household income in 1999, was $58,575, and the median family income in 1999 was $63,843.

Library
Sandy City Library is a Clackamas County Library. 38980 Proctor Boulevard, Sandy, OR Phone: (503) 668-5537

Gresham Library is a Multnomah County Library. 385 NW Miller Ave, Gresham, OR Phone: (503) 988-5387

Clubs
Country Cutups Squaredance Club, 13987 Southeast Richey Road, Boring, OR Phone: (503) 663-4298

Mountain View Golf Club, 27195 Southeast Kelso Road, Boring, OR Phone: (503) 663-4869

Cascade Athletic Clubs, 19201 Southeast Division Street, Gresham, OR Phone: (503) 665-4142

Mt Hood Athletic Club, 37095 Highway 26, Sandy, OR Phone: (503) 826-0565

Collins Retreat Center, 32867 SE Highway 211, Eagle Creek, OR Phone: (503) 637-6411

Restaurants
Boring Restaurants:
Full Moon Bar & Grill, 28014 Southeast Wally Road, Boring, OR Phone: (503) 663-0581

Paola's Corner Restaurant, 28300 SE Highway 212, Boring, OR Phone: (503) 663-1394

Timber Pub & Grub, 28052 SE Highway 212, Boring, OR Phone: (503) 663-6092

Nuts On Sports Pizza, 31265 SE Highway 26, Boring, OR Phone: (503) 663-0622

Backroads Pub & Grub, 13230 Southeast Orient Drive, Boring, OR Phone: (503) 663-5777

A&W at Ashley Village, 31265 SE Highway 26, Boring, OR Phone: (503) 663-0200

Sports
Boring's location is a short drive to Mt Hood with all the mountain activities available like: skiing, snowboarding, tubing, snowshoeing and hiking.

Mt. Hood Meadows

Timberline

Skibowl

Gresham Junior Baseball, Gresham, OR Phone: (503) 465-1490

Barlow Junior Baseball Associates, 150 Northwest 20th Street, Gresham, OR Phone: (503) 674-0734

Lakridge Youth Football, 15040 Northeast Mason Street, Portland, OR Phone: (503) 345-1550

Cascade Athletic Club in Gresham offers tennis, swimming, fitness classes and more. 19201 SE Division St., Gresham, OR. Phone: 503-665-4142

Mt Hood Community college Aquatic Center. 26000 SE Stark St., Gresham, OR 97030 Phone: 503-491-6422

Mt Hood Aquatics has a world championship pool and offer swim teams for children and adults.

City History
Boring was named after W.H. Boring an early resident of the area. Borings unique name often seems humorous to outsiders especially when advertised as the most exciting place to live. Throughout most of the 20th century Boring was a timber town using the Portland Traction Company (a now non operational railroad) which operated a line from Portland (near OMSI) on the Willamette River to Boring by way of Gresham. Much of that line now has been purchased by the government and is known as the Springwater Corridor. In 2005, citizens applied to become a village but after many months of debate, it was not to be with a vote of 293 in favor and 298 against.

Surrounding Cities: Gresham, Damascus, Estacada

City Pictures: Boring, Oregon
| | | | |
| --- | --- | --- | --- |
| Boring City Limits | Boring Farmer's Market Sign | Post Office Boring Oregon | Boring Welcome Sign |
| | | | |