Portland Suburbs & Neighborhood Info

ADD TO OUR SITE?

If you would like to add additional information to this website click here and provide the information.
| | | | |
| --- | --- | --- | --- |
| County: Multnomah, Clackamas | | | Zip Codes: 97080, 97030, 97089 |
City Description for Relocating to Portland Metro
These pages contain items about suburbs of Portland such as: employers, transportation, city housing, schools, religious affiliations, parks and recreation, entertainment, demographics, library, clubs, restaurants, sports, city history, surrounding cities and city pictures.
Gresham, Oregon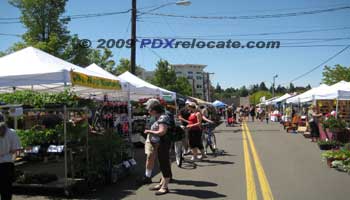 Gresham, Oregon is a great place to live, work and play. To the left is a picture of Gresham Farmer's market. Gresham is a busting at the seems and is no longer a farming community. It's largest employer is On Semi-Conductor and is home to many great restaurants and shopping. It's also the last large suburb on the way to Mount Hood. Most people from Portland who go skiing or do outdoor activities on Mount Hood will most likely pass through Gresham on their way.
Gresham

Employment Opportunities
Employment opportunities:
Click here for a list of the large employers in Gresham.

Transportation
DMV:

Trimet: Are you without a vehicle? Click here to map your transportation route. Public Transportation: TriMet is the public transportation system for the Portland Metropolitan area. They provide busses, light rail, commuter rail, and street car.

Housing
Home in Gresham are selling with an average price per square foot at $129 which is a decrease of 13.4% compared to the same period last year. Based on 182 home sales from April 09 through June 09, the median sales price for homes was $215,000. Compared to the same period one year ago, the median home sales price decreased 13.3%, or $32,975, while the number of home sales increased 4.6%.

Year Home was Built Gresham Multnomah County Oregon
Built 1939 or earlier 2.48% 28.81% 13.41%
Built 1940 to 1949 2.50% 10.15% 7.20%
Built 1950 to 1959 7.26% 13.51% 10.20%
Built 1960 to 1969 13.41% 11.51% 12.16%
Built 1970 to 1979 32.56% 15.10% 23.02%
Built 1980 to 1989 15.71% 7.48% 12.16%
Built 1990 to 1994 11.18% 4.95% 8.76%
Built 1995 to 1998 11.35% 6.34% 10.29%
Built 1999 to March 2000 3.56% 2.15% 2.80%


Average Sale Price from April-June 2009 for Gresham Neighborhoods.

Gresham - Northeast $165,266
Gresham - Centennial $175,062
Gresham - City Central $164,450
Gresham - North Central $182,627
Gresham - Holly Brook $194,300
Gresham - Mt. Hood $220,972
Gresham - Powell Valley $198,877
Gresham - Kelly Creek $226,550
Gresham - Northwest $223,720
Gresham - Southwest $248,781
Gresham - Asert $195,574
Gresham - Gresham Butte $279,657
Gresham - North Gresham $120,000
Gresham - Rockwood $161,500
Gresham - Wilkes East $226,538

Household Income:
Gresham's household median income is $43,442 while the state average is $40,916.
Gresham's family income median is $51,126 compared to the state average of $48,680.

Crime Statistics:
Property Crime 4.12% population affected in Gresham compared to 5.58% in all of Multnomah County, and 3.67% in Oregon.
Violent Crimes in Gresham affected .58% of the population compared wtih Multnomah County at .68%, and Oregon at .28%.

For listings in specific areas of Gresham click here to e-mail pdxrelocate and we will route your e-mail to the best Real Estate Agent who exclusively serves Gresham and qualifies under the pdxrelocate standards and practices for Real Estate Agents.

Schools
Public Schools:
Gresham Schools:
Elementary Schools
Middle Schools
High Schools
Private Schools

Religious Affiliations
There is an abundant amount of religious affiliations in Gresham. Click here for a list of all the churches, synagogues, temples and mosques in Gresham, Oregon.

Park and Recreation Information
Click here for your guide to Gresham Oregon Parks and Recreation information.

Entertainment
Mt Hood Theater, 401 E Powell Blvd Gresham, OR Phone: (503) 665-0604
Versis Entertainment Center, 1356 Nw Civic Dr, Gresham, OR Phone: (503) 491-1068
Shoebox Theater in Gresham, 219 S Main Avenue, Gresham, OR 97080
Center for the Arts Plaza in Gresham is home to the Columbia Symphony Orchestra, NE Third Street and NE Kelly Avenue, Gresham, OR 97030 Phone: 503.665.7800

Demographic
Gresham Demography, taken from the 2005-2007 census.

There were 37,000 households in Gresham with an average household size of 2.7 people. Families made up 69 percent of the households which includes both married-couple families (49 percent) and other families (20 percent). Nonfamily households made up 31 percent. Most of the nonfamily households were people living alone, but some were composed of people living in households in which no one was related to the householder. Eighty-three percent of the population were native, including 50 percent who were born in Oregon and 17% of the people were foreign born. Among people at least five years old, 23 percent spoke a language other than English at home. Of those speaking a language other than English at home, 67 percent spoke Spanish and 33 percent spoke some other language; 59 percent reported that they did not speak English "very well." 82 percent of people at least 25 years old had graduated from high school and 19 percent had a bachelor's degree or higher. Eighteen percent were dropouts. The total school enrollment in Gresham city was 27,000. Nursery school and kindergarten enrollment was 3,100 and elementary or high school enrollment was 18,000 children. College or graduate school enrollment was 5,200. Of people who were at least five years old, 15 percent reported a disability. The likelihood of having a disability varied by age - from 6 percent of people 5 to 15 years old, to 14 percent of people 16 to 64 years old, and to 41 percent of those 65 and older. For the employed population 16 years and older, the leading industries were Educational services, and health care, and social assistance, 16 percent, and Manufacturing, 12 percent. Among the most common occupations were: Sales and office occupations, 28 percent; Management, professional, and related occupations, 25 percent; Service occupations, 18 percent; Production, transportation, and material moving occupations, 14 percent; and Construction, extraction, maintenance and repair occupations, 12 percent. Eighty-three percent of the people employed were Private wage and salary workers; 10 percent were Federal, state, or local government workers; and 6 percent were Self-employed. Seventy-one percent of Gresham city workers drove to work alone, 15 percent carpooled, 7 percent took public transportation, and 4 percent used other means. The remaining 3 percent worked at home. Among those who commuted to work, it took them on average 25.7 minutes to get to work. The median income for households was $46,584. Eighty-two percent of the households received earnings and 17 percent received retirement income other than Social Security. Twenty-three percent of the households received Social Security. The average income from Social Security was $14,662. These income sources are not mutually exclusive; that is, some households received income from more than one source. 18 percent of people were in poverty. Twenty-six percent of related children under 18 were below the poverty level, compared with 9 percent of people 65 years old and over. Thirteen percent of all families and 36 percent of families with a female householder and no husband present had incomes below the poverty level. Population of Gresham was 102,000, 50% were females and 50% percent were males. The median age was 35 years. Twenty-eight percent of the population was under 18 years and 11 percent was 65 years and older. 84 percent was White; 3 percent was Black or African American; 3 percent was American Indian and Alaska Native; 5 percent was Asian; less than 0.5 percent was Native Hawaiian and Other Pacific Islander, and 5 percent was Some other race. Three percent reported Two or more races. Eighteen percent of the people were Hispanic. Seventy-one percent of the people were White non-Hispanic. People of Hispanic origin may be of any race. There were a total of 39,000 housing units, 6 percent of which were vacant. Of the total housing units, 58 percent were single-unit structures, 38 percent were multi-unit structures, and 4 percent were mobile homes. Thirty-four percent of the housing units were built since 1990. The median monthly housing costs for mortgaged owners was $1,516, non-mortgaged owners $457, and renters $734. Forty percent of owners with mortgages, 16 percent of owners without mortgages, and 50 percent of renters spent at least 30 percent of their household income on housing.

Library
Gresham Library is a branch of the Multnomah County Library. This branch serves Gresham, Troutdale, Wood Village, Fairview, Corbett and other East County communities. The hours are Mon/Tues 10am-8pm, Wed-Sat 10am – 6pm, and Sun 12-5. 385 N.W. Miller Avenue, Gresham, OR 97030 Phone: 503.988.5387

Clubs
Gresham Elks Lodge Number 1805 is involved in several community projects as well as providing social activities for members. Location: 3330 NE Division, Gresham Oregon Meets: Tuesdays at 7:30 pm Office Phone: 503-665-4797 Email: b.p.o.e.1805@worldnet.att.net

Restaurants
Gresham Restaurants:

Don Camaron Restaurant, 1111 E Powell Blvd, Gresham, OR 97030 Phone: (503) 618-7862

Elmer's Breakfast-Lunch-Dinner, 1590 NE Burnside Rd, Gresham, OR 97030 Phone: (503) 665-5144

Fortuna Chinese Restaurant, 24697 SE Stark St, Gresham, OR 97030 Phone: (503) 492-4888

Giuseppe's Italian Restaurant, Gresham, OR 97030 Phone: (503) 669-0727

Heidi's of Gresham serves traditional American food and is open every day at 6:30 AM. 1230 NE Cleveland Ave, Gresham, OR 97030 Phone: (503) 667-4200

Juan Colorado Mexican Restaurant, 1716 NW Fairview Dr, Gresham, OR 97030 Phone: (503) 665-4402

Koji Osakaya Japanese Restaurant, 3070 NE Hogan Dr, Gresham, OR 97030 Phone: (503) 666-6262

La Carreta, 660 NE Burnside Rd, Gresham, OR 97030 Phone: (503) 661-7647

Lee's Garden Chinese Restaurant, 18330 SE Division St, Gresham, OR 97030 Phone: (503) 661-1604

M & M Restaurant & Lounge serves American food. 137 N Main Ave, Gresham, OR 97030 Phone: (503) 665-2626

Marie Callender's serves New and Traditional American food. 305 NW Burnside Rd, Gresham, OR 97030 Phone: (503) 669-8440 Price: $15.00

Musashi Japanese Restaurant, 25 NW 1st St, Gresham, OR 97030 Phone: (503) 665-6060

Olive Garden is an Italian Restaurant, 2330 SE Burnside Rd, Gresham, OR 97080

Phone: (503) 669-3600 Price: $20.00

Outback Steakhouse, 2424 SE Burnside Rd, Gresham, OR 97080 Phone: (503) 674-5340 Price: $35.00

Plenty Buffet Restaurant serves Chinese food. 312 NW Eastman Pkwy, Gresham, OR 97030 Phone: (503) 665-0207

Seven Mares Restaurant serves Mexican food. 841 E Powell Blvd, Gresham, OR 97030 Phone: (503) 667-5602

Shari's Restaurants serves traditional American. 881 SW Highland Dr, Gresham, OR 97080 Phone: (503) 618-7976

Thai Taste, 229 N Main Ave, Gresham, OR 97030 Phone: (503) 492-5744

Vi Thai Restaurant, 751 NE 242nd Ave, Wood Village, OR 97060 Phone: (503) 618-1391

Yun's Garden Restaurant serves Chinese food. 1255 NE Cleveland Ave, Gresham, OR 97030 Phone: (503) 661-1155

Sports
Soccer:
EastSide United FC is a premier Oregon Soccer Club. 510 NE Roberts Ave, Suite 200, Gresham, OR 97030
Office: 503-667-8312 esufc@esufc.com
Basketball:
Mt. Hood YMCA offers basketball, soccer, and other programs. 223 SW Buxton Avenue, Troutdale, OR 97060 Phone 503.492.9890
Olympic Gym has basketball, fitness classes, tanning and more. 23500 SE Stark St., Gresham, OR 97030 Phone: (503) 667-2290
Baseball & Softball:
Reynolds Girls ASA Softball P.O. Box 1134, Fairview, OR 97024 EMail: reynolds.asa.softball@verizon.net
Rockwood Jr. Baseball Call 503-806-5709 with any questions or email: rockwoodjuniorbaseball@gmail.com
Football:
Gresham Youth Football Association
Reynolds Raider Youth Football
Centennial Youth Football is for grades 3-8.
Swim Teams:
Maverick Aquatics PO BOX 1533, Gresham, OR 97030
Mt. Hood Aquatics PO Box 129, Gresham, OR 97030 26000 SE Stark, Gresham, OR 97030
Oregon Reign is a Master Swim Team for adults which practices at Mt. Hood Community College. Contact: Chris Gaarder 5845 NE 26th Ave., Portland, OR 97211 Phone: 503-358-3006 wetboypdx@gmail.com
Tennis:
Cascade Athletic Club has tennis teams as well as other sports. 19201 SE Division St, Gresham, OR 97030 (503) 665-4142

City History
The city of Gresham was named after an American Civil War general and Postmaster General, Walter Quinton Gresham. Before it was incorporated in 1905, Gresham was known as Campground because pioneers would stop in the forested site and camp before moving on to Portland.

Surrounding Cities: Troutdale, Wood Village, Corbett, Happy Valley, Boring, Northeast Portland

City Pictures: Gresham, Oregon
Downtown Gresham
Briallance Salon & Day Spa
Downtown Gresham Shops
Downtown Shops
Gresham Condominiums
Multnomah Library Sign
Gresham Library
Downtown Street View
Gresham Monument City Sign
Historic Gresham Sign
Downtown Gresham Outdoor Farmer's Market
Farmer's Market
Gresham Farmer's Market
Farmer's Market Downtown
Farmer's Market in Gresham
Gresham, OR Farmer's Market
Gresham Outdoor Market
Gresham Farmers Market
Downtown Farmer's Market
Persimmon Golf & Country Club Community
Persimmon Golf Entry Sign
Persimmon Golf Course
Persimmon Country Club
Persimmon Golf & Country