Portland Suburbs & Neighborhood Info

ADD TO OUR SITE?

If you would like to add additional information to this website click here and provide the information.
| | | | |
| --- | --- | --- | --- |
| County: Clackamas | | | Zip Codes: 97023 |
City Description for Relocating to Portland Metro
These pages contain items about suburbs of Portland such as: employers, transportation, city housing, schools, religious affiliations, parks and recreation, entertainment, demographics, library, clubs, restaurants, sports, city history, surrounding cities and city pictures.
Estacada, Oregon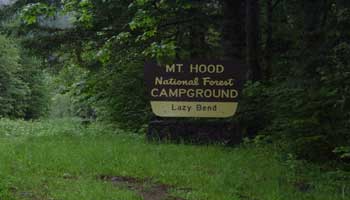 The Mt. Hood National Forest is an enormous area for that is kept up and provides wonderful campgrounds next to the prettiest locations in the entire country. This picture to the left is a what a typical sign will look like for each campground in the Mt. Hood National Forest. Lazy Bend campground pictured left is located in Estacada Oregon along the Clackamas River home of best fishing and rafting in the world.
Estacada is located at the base of the Clackamas River Gorge and the Mt. Hood National Forest. It was named by Budget Travel Magazine as "One of the Best Places You've Never Heard Of" because of it's closeness to all outdoor activities on the Clackamas River and on Mt. Hood. As part of the Clackamas County area which harvests over 2.9 million trees annually, it is known as the Christmas Tree Capital of the World.

Employment Opportunities
Employment opportunities:
Click here for a list of the large employers in Estacada.

Transportation
TriMet bus service 503.238.RIDE

SAM- Sandy Area Metro 503.668.5533

Housing
For listings in specific areas of Estacada click here to e-mail pdxrelocate and we will route your e-mail to the best Real Estate Agent who exclusively serves Estacada and qualifies under the pdxrelocate standards and practices for Real Estate Agents.

Schools
Public Schools:
Estacada Schools:
Elementary Schools
Middle Schools
High Schools
Private Schools

Religious Affiliations
There is an abundant amount of religious affiliations in Estacada. Click here for a list of all the churches, synagogues, temples and mosques in Estacada, Oregon.

Park and Recreation Information
Click here for your guide to Estacada oregon parks and recreation information.

Entertainment
The Spiral Gallery is open Tues - Sat., 11:00 am - 6:00 pm; and Sundays, 12 - 4:00 pm. On the 1st Friday of each month come to the Featured Artist Reception. PO Box 1394, 341 S. Broadway, Estacada, OR 97023, (503) 630-7273

Artback Artist Cooperative, does annual mural painting in downtown Estacada. PO Box 182, Eagle Creek, Oregon 97022,

Estacada Area Arts Commission. Contact Estacada City Hall, (503) 630-8270

Estacada Together presents music and performing arts. PO Box 547, Estacada, OR 97023.

Demographic
From the 2000 census bureau, the population was 2,371 which consisted of 1,144 males and 1,227 females. The age groups divisions are 164 under 5 years old, 1,670 were between the ages 18 & over, and 262 were 65 and over. The race make-up was 84.9% were white, .2 were black or African American, 1.4% were American Indian and Alaska Native,12.8% were Hispanic or Latino )of any race) and 9.9% were some other race.

The median household income in 1999 was $39,200 and the median family income in 1999 was $46,445. Families below poverty level are 59 or 10.1% as compared to the US average which is 9.2%. Individuals below the poverty level are 291 or 12.9% as compared to the US national average which is 12.4%. The median value for homes was $134,000. There are 850 occupied housing units. Of those, 544 are owner-occupied and 306 are renter-occupied.

Library
Estacada Public Library is open Monday-Thursday 9am-8pm and Friday- Sunday 10am-5pm. 825 NW Wade, Estacada, OR 97023 Phone: 503-630-8273 - 503-630-8282

Clubs
Curves is a fitness club for women. 321 SW Hwy. 224, Estacada Phone: (503) 630-7551

Springwater Grange #263 is a family fraternal organization. Meetings every fourth Monday of the month, Potluck at 6:15, Meeting 7 PM. Corner of Springwater RD and Wallens Rd, Estacada, OR 97023

Estacada Chamber of Commerce, 475 SouthEast Main Street, Estacada, OR 97023 Phone:503-630-3483

Weight Watchers, 200 SW Club House Dr, Estacada, OR, 97023 Phone: (800) 516-3535

Oregon State Elks Association

Closest Elks Lodge, Oregon City Elks #1189, 610 McLoughlin Boulevard, Oregon City OR 97045 Phone: (503) 655-5131

Mt Hood Athletic Club, 37095 Highway 26, Sandy, OR Phone: (503) 826-0565

Restaurants
Estacada Restaurants:
King Wong's Restaurant Incorporated, 310 S Broadway St, Estacada, OR, Phone: (503) 630-2828

Hong's Chinese Restaurant, 116 Se 4th Ave, Estacada, OR Phone: (503) 630-3207

View Point Restaurant & Lounge, 20189 S Springwater Rd, Estacada, OR Phone: (503) 631-3400

Country Restaurant & Lounge, 341 Ne Main St, Estacada, OR Phone: (503) 630-6657

Harmony Baking Company, 221 Sw Wade St, Estacada, OR Phone: (503) 630-6857

Sports
Estacada Little League, Phone: (503) 630-2615

Estacada baseball includes little league, juniors, and high school baseball.

Rangers Baseball

Springwater Golf Course, 25230 S Wallens Rd, Estacada, OR, 97023 Phone: (503) 630-4586

North Valley Youth Soccer, 31276 South Grays Hill Road, Colton Phone: (503) 824-4625

Estacada High School lists all the sports they offer.

Disc Golf:

Riverbend Disc Golf at Milo McIver – Estacada

Description: Course winds over rolling terrain, with scenic hillsides, hiking trails and river access. Multiple tees and pins. $3/day or $25/year per vehicle. 27 hole DISCatcher. Directions: I-205 SE of Portland to 212/224. Stay on 224 at fork, after 1 mile (in Carver) right across bridge, then left about 9 miles on Springwater to park on left. 1st tee in Riverbend area by west parking lot (on way to boat ramp.)

Timber Park- Estacada
Description: Tournament quality course set in wooded park with moderate elevation changes and good mix of open and tight holes. 18 holes Mach3. Directions: I-205 to 212/224 exit, stay on 224 at fork, left at fork in Carver, 15 miles to Estacada. Park is on right 0.25 mile before town. 1st tee by baseball field.

City History
In 1905, Estacada was founded and was a camp for workers whom were building a dam on the Clackamas River to supply Portland with electricity. The Oregon Power Railway Company had to build a railway in order for the workers to get to the river to work on the construction of the dam. The railway was used as a weekend destination to the river on the weekends and used during the week to carry freight and the dam workers. Soon a trolley line was built between Estacada and downtown Portland. However now there is no rail service to Estacada and the railway line has been removed.

Surrounding Cities: Oregon City, Milwaukie, Happy Valley, SE Portland

City Pictures: Estacada, Oregon
| | | | |
| --- | --- | --- | --- |
| Estacada River Mill Dam | Lazy Bend Mt. Hood National | Estacada Tree Farm | Indian Henry |
| | | | |
| Eagle Fern | Cliff Jumping | Clackamas River | Indian Henry |
| | | | |