Portland Suburbs & Neighborhood Info

ADD TO OUR SITE?

If you would like to add additional information to this website click here and provide the information.
| | | | |
| --- | --- | --- | --- |
| County: Washington | | | Zip Codes: 97062 |
City Description for Relocating to Portland Metro
These pages contain items about suburbs of Portland such as: employers, transportation, city housing, schools, religious affiliations, parks and recreation, entertainment, demographics, library, clubs, restaurants, sports, city history, surrounding cities and city pictures.
Tualatin, Oregon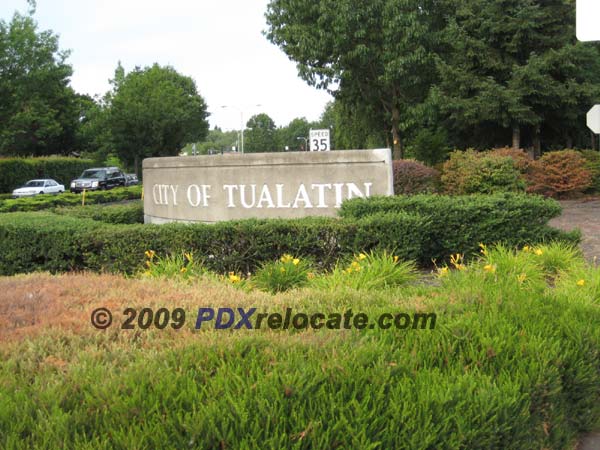 Tualatin is a beautiful city located just south of Tigard and off the I-5 corridor. Many people flock to Tualatin to go to Bridgeport Village. Bridgeport Village is a huge lifestyle shopping mall. A lifestyle shopping mall is a shopping mall where the only entrance is from outside and no stores are interconnected to each other. To get from one store to the next you have to leave the store go outside and walk into the next. Bridgeport Village has it all. They have the best restaurant chains, the best clothing store chains, the best movie theater chains, the best grocery stores, the best parking and traffic flow, the easiest freeway access. Come visit today!
Tualatin

Employment Opportunities
Employment opportunities:
Click here for a list of the large employers in Tualatin.

Transportation
Trimet: Are you without a vehicle? Click here to map your transportation route. Public Transportation: TriMet is the public transportation system for the Portland Metropolitan area. They provide busses, light rail, commuter rail, and street car.

Housing
For listings in specific areas of Tualatin click here to e-mail pdxrelocate and we will route your e-mail to the best Real Estate Agent who exclusively serves Tualatin and qualifies under the pdxrelocate standards and practices for Real Estate Agents.

Schools
Public Schools:
Tualatin Schools:
Elementary Schools
Middle Schools
High Schools
Private Schools

Religious Affiliations
There is an abundant amount of religious affiliations in Tualatin. Click here for a list of all the churches, synagogues, temples and mosques in Tualatin, Oregon.

Park and Recreation Information
Click here for your guide to Tualatin Oregon Parks and Recreation information.

Entertainment
Regal Cinemas Bridgeport Village Stadium 18 & IMAX Phone: 503-968-7675

Tualatin Oregon parks and greenways and events.

Tualatin Swim Center 22380 SW Boones Ferry Rd., Tualatin, OR 97062 Phone: 503-431-5655

Wilsonville Lanes is the closest bowling. 29040 SW Town Center Loop, Wilsonville, OR 97070 Phone: 503-682-2346

WineStyles of Tualatin, 7009 SW Nyberg St, Tualatin Phone: (503) 691-7777

Jiggles is an Adult Entertainment place. 7455 SW Nyberg St, Tualatin, OR Phone: (503) 692-3655

Demographic
As of the 2000 census, the population was 22,791 people. The population density was 2,928.5 people per square mile. 86.89% of the population were White, 0.79% African American, 0.69% Native American, 3.62% Asian, 0.37% Pacific Islander, 4.84% from other races, and 11.85% were Hispanic or Latino. The median income for a family was $68,165. About 3.0% of families and 5.5% of the population were below the poverty line. The city has a total area of 7.8 square miles.

Library
The Tualatin Library was ranked the highest in Oregon in 2005 for libraries serving towns with populations between 10,000 and 24,999 on the Hennen's American Public Library Rating (HAPLR) Index. 18878 SW Martinazzi, Tualatin, OR 97062 Phone: 503.691.3074

Clubs
Tualatin Country Club, 9145 SW Tualatin Road, Tualatin, OR 97062 Phone: 503-692-1122

Tualatin Rotary Club is a volunteer organization which takes on community service projects.

Club Sport is a large family oriented sports club which features serveral basketball courts, large fitness rooms with state of the art cardio machines and weight equipment, large rock climbing area, swimming pool, lounge, and much more.18120 SW Lower Boones Ferry Road, Tigard, OR 97224 Phone: 503-968-4500.

Tualatin Indoor Soccer Club Phone: 503-885-9300

Tualatin Kennel Club was founded in 1972 holds shows and help sponsor various dog related activities.

Curves is a women's fitness club. 7811 SW Nyberg Rd., Tualatin, OR 97062 Phone: 503-885-8831

Tualatin Valley Gem Club was established in 1957 for rock hounds.

Tigard-Tualatin Swim Club

Restaurants
Tualatin Restaurants:

Hayden's Lakefront Grill offers award winning food from local growers. 8187 SW Tualatin-Sherwood Rd., Tualatin, OR 97062 Phone: (503) 885-9292

Outback Steakhouse is the official restaurant of the PGA TOUR. 8665 SW Tualatin Sherwood Rd, Tualatin, OR 97062 Phone: (503) 885-0410

Juan Colorado Mexican Restaurant have dinner special each night. 18770 SW Boones Ferry Rd, Tualatin, OR 97062 Phone: (503) 692-0390

Sinju Restaurant is located in nearby Bridgeport Village. 7339 SW Bridgeport Rd, Portland, OR 97224 Phone: (503) 352-3815

Bushwhackers offers free dance lessons on Monday, Wednesday, Saturday evenings and Sunday afternoon. There is trivia on other nights. 8200 SW Tonka St, Tualatin, OR 97062 Phone: (503) 692-3982

Parallel 45 is noted for their wines. 8294 SW Nyberg St, Tualatin, OR 97062 Phone:
(503) 612-9219 http://www.p45winebar.com/

Hot Seat Bar & Grill has 21 TV's and two big screens including a 100" HD. There is also dancing, karaoke, and ladies night. 18791 SW Martinazzi Ave, Tualatin, OR Phone: (503) 885-8787

Sports
Tualatin Adult Coed Softball League runs 15 weeks.

Tualatin City Little League offers a great softball program.

Tualatin Fastpitch Softball Association (TFSA), provides girls with recreational and competitive softball (including T-ball) for all ages ranging from 5 to 18 years old.

Junior Baseball of Oregon, Inc., (JBO) is set up for players 9-16 years of age, with four distinct age groups, Midget, Junior, Senior and Cub.

Tualatin Lacrosse has teams for kids grades 1 through high school.

Tualatin Rugby Club is for both boys & girls of high school age.

Tualatin Soccer Club (TSC) is for all students.

Tualatin Timberwolves Youth Football Association (TTYFA) is a member of the Tualatin Valley Youth Football League.

Tualatin Youth Baseball is for boys and girls ages 5-14.

Tualatin Youth Basketball

City History
The name of the city is taken from the Tualatin River. In 1853, Samuel Galbreath began a ferry service crossing the Tualatin River from a village he called "Galbreath". The town's name was changed to "Bridgeport" when Galbreath built the first bridge across the Tualatin River in 1856. At that time the city thrived with a blacksmith shop, boarding house, general store, and saloon. According to Oregon Geographic Names, a post office with the spelling "Tualitin" was established November 5, 1869, and the spelling changed to "Tualatin" in 1915. In 1886, Tualatin expanded with the building of the railroad. In 1890, John L. Smith established a sawmill close to the river. With other investors, Smith incorporated the Tualatin Mill Company and quickly monopolized local logging and lumbering. Smith's mill, was the largest reason for the growth of Tualatin at the time. In 1906, the Oregon Electric Railroad's Portland-Salem line came to town and changed the city's center again. The City of Tualatin was incorporated in 1913 and an official government was formed.

Surrounding Cities: Wilsonville, West Linn, Lake Oswego, Tigard, King City, Sherwood

City Pictures: Tualatin, Oregon
Bridgeport Village

Bridgport Village Cinemas
Bridgport Village
Bridgeport Street
Bridgeport Street
Click Here For More Pictures of Bridgeport village
Tualatin City

Wholefoods
Victoria Woods
Welcome to Tualatin
Max Line
Click Here For More Pictures of the City of Tualatin
Tualatin Parks

Common Lake
Tualatin Soccer Park
Ibach Park
Ibach Park