Portland Suburbs & Neighborhood Info

ADD TO OUR SITE?

If you would like to add additional information to this website click here and provide the information.
| | | | |
| --- | --- | --- | --- |
| County: Clackamas | | | Zip Codes: 97055 |
City Description for Relocating to Portland Metro
These pages contain items about suburbs of Portland such as: employers, transportation, city housing, schools, religious affiliations, parks and recreation, entertainment, demographics, library, clubs, restaurants, sports, city history, surrounding cities and city pictures.
Sandy, Oregon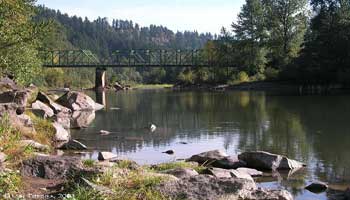 When you think of Sandy, Oregon you have to think of all the outdoor activities that people do. The Sandy River is a great river for fishing Steelhead, Salmon, Trout and Smelt. Many people also raft and swim in the river on hot days. This beautiful river goes all the way to the Columbia River and then out to the Pacific Ocean.
Sandy

Employment Opportunities
Employment opportunities:
Click here for a list of the large employers in Sandy.

Transportation
There are two separate bus routes that serve Sandy: SAM and STAR. The SAM route provided FREE transportation between Sandy and Gresham. The STAR route has a varied schedule, but is predominately a demand-response service
TriMet is the main transportation system within the Portland Metropolitan area which includes the airport and outlying cities.

Housing
For listings in specific areas of Sandy click here to e-mail pdxrelocate and we will route your e-mail to the best Real Estate Agent who exclusively serves Sandy and qualifies under the pdxrelocate standards and practices for Real Estate Agents.

Schools
Public Schools:
Sandy Schools:
Elementary Schools
Middle Schools
High Schools
Private Schools

Religious Affiliations
There is an abundant amount of religious affiliations in Sandy. Click here for a list of all the churches, synagogues, temples and mosques in Sandy, Oregon.

Park and Recreation Information
Click here for your guide to Sandy Oregon Parks and Recreation information.

Entertainment
Sandy Actors Theatre is a small theatre that has live shows. 17433 Meinig Avenue, Sandy Phone: (503) 668-6834

Mt Hood Repertory Theatre Co is a performing arts theater. 12 Northeast 2nd Street, Gresham, OR Phone: (503) 491-5950

Sandy Cinema is an 8 screen, 19,000 square foot movie theater with 826 stadium style reclining seats and Dolby Digital surround sound. 16605 Champion Way, Sandy, OR 97055

Demographic
According to the 2000 census the population of Sandy was 5,385 with 75.1% White, 12.3% Black, 1.2% American Indian and Alaska Native, .7% Asian, 1.7% some other race, 4.1% Hispanic or Latino of any race, 2.1% were two or more races. Of those 25 years of age and older 85.8 have a high school degree or higher and 16.8% have a Bachelor's degree or higher.

The median income for households was $42,115 while the median income for families was $59,255. The median income for single women households was $21,523 and the median income for non family households was $21,181.

There were 2,080 housing units, of those 1,956 were occupied and 124 were vacant. Owner's occupied 1,338 of the units and 618 of the units were renter occupied.

Library
Sandy Public Library is open 7 days a week. 38980 Proctor Blvd, Sandy, OR 97055-8040 Phone: (503) 668-5537

Clubs
Mt. Hood Athletic Club is a large recreation center for all kinds of sports and exercise. 37095 Hwy 26, Sandy, OR 97055 Phone: 503-826-0565
Veterans of Foreign Wars, 38452 Proctor Blvd, Sandy, OR 97055 Phone: (503) 668-5211
Route 26 Cruisers was established in 1997 in Sandy. This is a fun club for car enthusiasts and meets the first Tuesday of each month at the Clackamas County Bank in Sandy at 7 PM. PO Box 488, Sandy, OR 97055
The Sandy Optimist Club volunteers and helps to develop optimism as a philosophy of life.
Sandy Kiwanis Club serves the children of the world. They have meetings on Thursdays at 6:30pm. PO Box 1261, Sandy, Oregon 97055
Barlow Trail Long Rifles shoots on the 2nd Sunday of the month 2 miles out of Sandy just off of Hwy. 26. Phone 503-722-7514 or email: Marvinstinky@aol.com.

Restaurants
Sandy Restaurants:

Calamity Jane is noted for excellent hamburgers and great atmosphere with friendly people.

42015 SE Highway 26, Sandy, OR Phone: (503) 668-7817

Thai Home Restaurant, 38676 Pioneer Blvd, Sandy, OR Phone: (503) 668-0779

Tollgate Inn the Sandy, 38100 Highway 26, Sandy, OR Phone: (503) 668-8456

La Bamba, 17470 Scales Ave, Sandy, OR Phone: (503) 668-8628

Crossing Restaurant & Lounge, 39024 Proctor Blvd, Sandy, OR Phone: (503) 668-1111

Trout Pub, 39333 Proctor Blvd, Sandy, OR Phone: (503) 668-0900

2 Margaritas Mexican Restaurant, 36641 Highway 26, Sandy, OR Phone: (503) 668-6683

Double Dragon, 39131 Pioneer Blvd, Sandy, OR Phone: (503) 668-7243

Wong's King, 38776 Proctor Blvd, Sandy, OR Phone: (503) 668-8889

Paola's Pizza Barn, 38015 Highway 26, Sandy, OR Phone: (503) 668-8058

Sports
Sandy is just 45 minutes away from Mt. Hood and opportunities for downhill skiing, cross-country skiing, snowshoeing, tubing, and snowboarding. All equipment can be rented in Sandy or up at the mountain.

Mazamas is a non-profit mountaineering education organization that offers hundred's of climbs each year. 527 SE 43rd. Ave, Portland, OR Phone: (503) 227-2345

Swimming
Mt. Hood Community College offers lessons and swim team. 26000 SE Stark, Gresham, OR 97030
Master's Swimming- Oregon Reign Masters offers an involved Master's Swimming program with top notch coaches. They swim at the Mt. Hood community College in Gresham which is close to Sandy.

Cascade Athletic Club is located in Gresham and offers an involved tennis program as well as fitness activities and sports. 19201 SE Division St., Gresham, OR. Phone: 503-665-4142

City History
Lewis and Clark first named the Sandy River "Quicksand" but it gradually evolved into "Sandy" and the city of Sandy was named after the nearby River. One of the first settlers to Sandy was the Francis Revenue family which arrived in 1853. They opened a trading post on Barlow Road which went from The Dalles, around Mt. Hood and to Oregon City. Thousand of pioneers traveled this road on their way to the Wilamette Valley. The first post office in Sandy was established in 1873 and the city became incorporated in 1913.

Surrounding Cities: Sandy, Forest Grove, Beaverton

City Pictures: Sandy, Oregon
| | | | |
| --- | --- | --- | --- |
| Sandy Donut Shop | Sandy Public Library | Hydro Pump Station | Timberline Lodge |
| | | | |
| Sandy Mt Hood View | Sandy River | Sandy River Fishing | Incredible View of Sandy River |
| | | | |