Portland Suburbs & Neighborhood Info

ADD TO OUR SITE?

If you would like to add additional information to this website click here and provide the information.
| | | | |
| --- | --- | --- | --- |
| County: Washington | | | Zip Codes: 97123, 97124, 97006, 97007 |
City Description for Relocating to Portland Metro
These pages contain items about suburbs of Portland such as: employers, transportation, city housing, schools, religious affiliations, parks and recreation, entertainment, demographics, library, clubs, restaurants, sports, city history, surrounding cities and city pictures.
Hillsboro, Oregon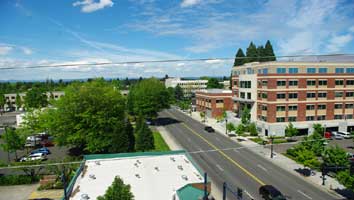 Hillsboro is located in the middle of Tualatin Valley, between the Cascade Range and the Pacific Ocean. With about an hour of driving you could ski Mt. Hood, wind sail in the Columbia River Gorge, or enjoy one of Oregon's beautiful beaches. Residents of Hillsboro are 20 minutes away from downtown Portland and all the attractions the large city offers. Downtown Hillsboro is a unique blend of old and new buildings. There is the historic Washington County Courthouse, with its stately sequoia trees and across the street is the modern Civic Center which is part of Hillsboro's vision for its community's future. The Hillsboro Saturday Farmers' Market is held May through October on the streets around the Courthouse and Civic Center.

Employment Opportunities
Employment opportunities:
Click here for a list of the large employers in Hillsboro.

Transportation
DMV:

Hillsboro DMV,1300 SW Oak St, Suite H, Hillsboro, OR 97123 (503) 299-9999

Tanasbourne DMV, 1981 NW 185th Ave, Suite 103 B, Hillsboro, OR 97123, (503) 299-9999

TriMet: Are you without a vehicle? Click here to map your transportation route. Public Transportation: TriMet is the public transportation system for the Portland Metropolitan area. They provide busses, light rail, commuter rail, and street car.

Mass Transit:

TriMet is the mass transit system for the Portland Metropolitan Area which includes Hillsboro.

The MAX blue line has 3 stops in Hillsboro. The Willow Creek stop is at SW 185th Ave., the Fair Complex/Hillsboro Airport, and the Hatfield Government Center. Hillsboro is the end of the line for the MAX from the West. The MAX can take you to downtown Portland, to the airport, or out to Gresham.

Park and ride stops are free of charge up to 24 hours unless otherwise posted. Many lots have been generously donated by churches and businesses and can only be used on the weekdays. The following are park and ride stops in Hillsboro.

Fair Complex/Hillsboro Airport, 601 NE 34th Ave., Hillsboro 97124

Hillsboro Parking Garage, 110 SW Washington St., Hillsboro 97123

Orenco/NW 231st Ave, NE Orenco Station Pkwy. & Campus Ct., Hillsboro 97124

Quatama/NW 205th Ave, 350 NW 205th Ave., Hillsboro 97006

Willow Creek/SW 185th Ave TC, SW 185th Ave. & Edgeway Dr., Hillsboro

Housing
For listings in specific areas of Hillsboro click here to e-mail pdxrelocate and we will route your e-mail to the best Real Estate Agent who exclusively serves Hillsboro and qualifies under the pdxrelocate standards and practices for Real Estate Agents.

Schools
Public Schools:
Hillsboro Schools:
Elementary Schools
Middle Schools
High Schools
Private Schools

Religious Affiliations
There is an abundant amount of religious affiliations in Hillsboro. Click here for a list of all the churches, synagogues, temples and mosques in Hillsboro, Oregon.

Park and Recreation Information
Hillsboro Parks and Recreation-click here for a list of all the parks and recreation centers in Hillsboro, Oregon.

The City of Hillsboro Parks & Recreation Department was awarded a national accreditation from the Commission for Accreditation of Park and Recreation Agencies (CAPRA). There are only 3 in the Northwest and only 84 in the country so this is quite an honor.

Entertainment
Regal Theater show blockbuster hits with stadium seating and accommodations for the disabled.

Regal Movies on TV 16, 2929 SW 234th Avenue, 800.326.3264 316

Regal Evergreen Parkway 13, 2625 N.W. 188th, 800.326.3264 315

Forest Theater is an old theater in downtown Forest Grove which shows cheap movies. 1911 Pacific Ave, Forest Grove, OR Phone (503) 359-1105

Cornelius Stadium Cinemas shows the latest box office hits. 200 N 26th Ave, Cornelius, OR Phone (503) 884-8732 Ext 465

Act III Theatres 2929 SW 234th Ave, Hillsboro, OR Phone: (503) 259-9226

Attractions:

Rice NW Museum of Rocks and Minerals

Farmers' Markets Tri-county area

Hillsboro Farmers' Markets

Jackson Bottom Wetlands Preserve

Old Scotch Church

Walters Cultural Arts Center

Wineries - Helvetia Vineyards

Wineries - Oak Knoll

Tuesday Marketplace

Washington County Fair Complex

Demographic
The population in Hillsboro in 2006 was 83,264. 66.6% were White, 1.2% Black, 22.6% Latino, 7.9% Asian, and 1.3% other. The population density was 3,253.8 per square mile. Families represent 68.1% of the population. The median income for a family was $57,379. The city had 192 violent crimes and 2,752 property crimes that were reported. The violent crime rate was 224 per 100,000 while the national average is 474 per 100,000 and Oregon's average is 287 per 100,000.

Library
Hillsboro Libraries

Hillsboro Public Library - (503) 615-6500

Washington County Law Library - (503) 846-8880

Oregon Health & Science University: Library - (503) 748-1383

Shute Park Branch Library - (503) 615-6500

Washington County Cooperative Library Services Outreach - (503) 617-6330

Oregon Institute-Sci & Tech Library - (503) 690-1060

Tuality Health Information Center - (503) 681-1702

Oregon National Primate Research - (503) 645-1141

Government of Washington County: Community Development - (503) 846-8814

Clubs
Hillsboro Rotary meets Wednesdays noon at the Hillsboro Country Club Clubhouse. This club is currently working on several projects and fundraisers.

Elks Lodge The Hillsboro branch is one of over 2000 lodges across the country. 21865 NW Quatama Rd., Hillsboro, OR 97124. Phone: 503-648-1862

Hillsboro Elks Lodge Number 1862 has space for 10 RV Hookups.The Hillsboro branch is one of over 2000 lodges across the country. They also have activities and dining nightly. Location: 21865 NW Quatama Road Hillsboro OR Meets: Thursdays except July and August, then 2nd and 4th Thursdays only Office Phone: 503-648-1862 Email: Lodge1862Info@verizon.net

Restaurants
Hillsboro Restaurants:

Venetian Theatre & Bistro, 253 E. Main St, Hillsboro, OR 503-693-3953 This venue offers live theatre, concerts, lounge music, bistro dining and occasional movies.

Sports
Golf:
Claremont Golf and Country Club ,15955 NW West Union Rd.; Portland, OR 97229 Pro Shop (503) 690-4589
Pumpkin Ridge 12930 Old Pumpkin Ridge Road, North Plains, OR 97133, 503.647.4747
McKay Creek Golf Course, 1416 NW Jackson Street; Hillsboro, Oregon 97124 Pro Shop - (503) 693-7612
Killarney West Golf Course, 1275 NW 334th; Hillsboro, Oregon 97124 Pro Shop - (503) 648-7634
Sunset Grove Golf Course 41615 NW Osterman Rd.; Forest Grove, Oregon 97116 Pro Shop - (503) 357-6044

Bowling:
Four Seasons Bowling Center, 322 SE Washington St., Hillsboro, OR Phone: (503) 648-3139
Park Lanes Family Entertainment, 6360 SE Alexander St, Hillsboro, OR Phone (503) 642-2161
Rainbow Lanes, 2748 19th Pl, Forest Grove, OR Phone (503)357-6321

Tennis:
Tualatin Hills Tennis Center, 15707 SW Walker Rd, Beaverton, OR 97006 Phone 503/629-6331
Sunset Athletic Club, 13939 N.W. Cornell Road, Portland, OR 97229 Phone (503) 645-3535
City of Hillsboro tennis program. Call 503.681.6120

Swimming:
Masterís Swimming
Tualatin Hills Barracudas, 15707 SW Walker Road, Beaverton, OR 97006
Age Group Swimming
Hillsboro Heat Swim Team 953 SE Maple St. in Hillsboro
Tualatin Hills Swim Club, 16055 SW Walker Rd, Beaverton, OR 97006-4058

City History
The Atfalati tribe of the Kalapuya lived in the area which is now Hillsboro thousands of years before the early settlers came. The region and climate was good for fishing, hunting, and agriculture. Settlers founded a community in 1842. Later the community was named after David Hill an Oregon politician. The Tualatin River was used as transportation by riverboat until 1870 when a railroad reached the area. With the railroad the community began to develop slowly but steadily until the arrival of the high-tech companies in the 1980's when growth increased tremendously.

Surrounding Cities: Forest Grove, North Plains, Aloha, Beaverton

City Pictures: Hillsboro, Oregon
| | | | |
| --- | --- | --- | --- |
| Hillsboro Downtown View | Hillsboro Snow Streets | Hillsboro Stadium | Intel Party |
| | | | |
| Intel Jones Farm Campus | Intel Ronler Acres Campus | Intel Ronler Acres Campus | Hillsboro Max Bridge |
| | | | |