Portland Suburbs & Neighborhood Info

ADD TO OUR SITE?

If you would like to add additional information to this website click here and provide the information.
| | | | |
| --- | --- | --- | --- |
| County: Clackamas | | | Zip Codes: 97034, 97035 |
City Description for Relocating to Portland Metro
These pages contain items about suburbs of Portland such as: employers, transportation, city housing, schools, religious affiliations, parks and recreation, entertainment, demographics, library, clubs, restaurants, sports, city history, surrounding cities and city pictures.
Lake Oswego, Oregon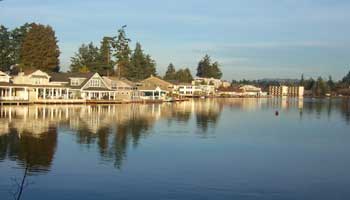 Lake Oswego, Oregon is Portland, Oregon's richest suburb. The city boasts of the most expensive homes and well as the wealthiest Portlanders. Some of the ultra rich reside directly on the Lake of Lake Oswego. Lake Oswego is rich with classy shops, upscale restaurants, huge mansions and it's still close in to Portland's thriving downtown scene. Lake Oswego, Oregon sits right on the Willamette River and Lake Oswego and is just North of West Linn.
Lake Oswego

Employment Opportunities
Employment opportunities:
Click here for a list of the large employers in Lake Oswego.

Transportation
DMV: When relocating to Oregon you will need to get in touch with the Oregon Department of Motor Vehicles to obtain an Oregon driver's license, pass DEQ testing for your car, renew license plates among other things.

Trimet: Are you without a vehicle? Click here to map your transportation route. Public Transportation: TriMet is the public transportation system for the Portland Metropolitan area. They provide busses, light rail, commuter rail, and street car.

Housing
Lake Oswego is one of the most affluent suburbs of Portland. It has some of the highest-priced real estate in the state, particularly the homes overlooking the lake.

For listings in specific areas of Lake Oswego click here to e-mail pdxrelocate and we will route your e-mail to the best Real Estate Agent who exclusively serves Lake Oswego and qualifies under the pdxrelocate standards and practices for Real Estate Agents.

Schools
Public Schools:
Lake Oswego Schools:
Elementary Schools
Middle Schools
High Schools
Private Schools

Religious Affiliations
There is an abundant amount of religious affiliations in Lake Oswego. Click here for a list of all the churches, synagogues, temples and mosques in Lake Oswego, Oregon.

Park and Recreation Information
Lake Oswego Parks and Recreation-click here for a list of all the parks and recreation centers in Lake Oswego, Oregon.

Entertainment
Lake Twin Cinema 106 N. State Street, Lake Oswego OR 97034 Phone: 503.635.5956

Tucci offers jazz and classical piano on Thursdays and Friday evenings. 220 A Ave Ste 108, Lake Oswego, OR 97034 Phone: (503) 697-3383

Willamette Shore Trolley 311 N State St, Lake Oswego, OR 97034 Phone: (503) 697-7436

Oswego Lake Gallery Ste 101, 315 1st St, Lake Oswego, OR 97034 Phone: (503) 635-5152

Portland Rose Hot Air Balloons 18965 Olson Ave Lake Oswego, OR 97034 Phone: (503) 638-1301

Lakewood Theatre Co 368 S State St, Lake Oswego, OR? Phone: (503) 635-3901

Medicine Bow Gallery 141 N State St, Lake Oswego, OR Phone: (503) 703-0449

Onda Gallery 220 A Ave, Lake Oswego, OR? Phone: (503) 496-3922

Matthew's Galleries 15800 SW Upper Boones Ferry Rd, Lake Oswego, OR Phone: (503) 639-7074

Xtreme Sports Camps 4248 Galewood St, Lake Oswego, OR (503) 75-4324

Demographic
According to the 2000 census there were 35,278 people in Lake Oswego with an average density of 1,521.4 people per square mile. The racial makeup is 91.1% white, 4.6% Asian, .6% Black, .3% Native American, 0.2% Pacific Islander, 0.7% from other races. The median family income is estimated $105,763 in 2007.

Library
Lake Oswego Public Library is open Monday-Thursday 10am-9pm, Friday, Saturday 10am-6pm, Sunday 1pm-6pm. 706 4th Street, Lake Oswego, OR 97034 Phone: 503.636.7628

Clubs
Lake Oswego Rotary Club meets every Monday at 12:15 at the Lakewood Center for the Arts 368 S. State Street, Lake Oswego, OR. Lake Oswego Rotary Foundation, District 5100,PO Box 94, Lake Oswego, Oregon 97034

Elks Lodge, nearest to Lake Oswego
13121 SE Mcloughlin Blvd, Milwaukie - (503) 654-958
8350 SW Warm Springs St, Tualatin - (503) 691-1935
7380 SW Garden Home Rd, Portland - (503) 246-3336

If you have a club in Lake Oswego that you would like to have added to this website, let us know info@pdxrelocate.com and we'll add you.

Restaurants
Lake Oswego Restaurants:

Clarke's Restaurant Bar specializes in delicious cakes. 455 2nd St, Lake Oswego, OR 97034 Phone: (503) 636-2667

Riccardo's Italian Restaurant noted for fine dinning and superb authentic Italian food, and a library of Italian wines. 16035 Boones Ferry Rd, Lake Oswego, OR 97035 Phone: (503) 636-4104

Fivespice At Lakeview Village has happy hour that features a $5.00 menu. 315 1st St, Lake Oswego, OR 97034 Phone: (503) 697-8889

Oswego Lakehouse, LLC is a wonderful place to have dinner or a casual drink on the deck in the summer or by the fireplace in the winter. 40 N State St, Lake Oswego, OR 97034 Phone: (503) 636-4561

Stanford's Restaurant and Bar offers a lively bar with nightly happy hour. 14801 Kruse Oaks Blvd, Lake Oswego, OR 97035 Phone: (503) 620-3541

Zeppo Italian offers catering, buffets, backyard BBQs, weddings, and more. 345 1st St # 105, Lake Oswego, OR 97034 Phone: (503) 675-2726

Wanfu Chinese Restaurant offers a wide selection of delicious authentic Chinese food. Everything is fresh and made to order. 141 N State St, Lake Oswego, OR 97034 Phone: (503) 636-2490

Manzana Rotisserie Grill for a first seating enjoy a 3 course meal for $25.00. Entrees include beef back ribs, Midwest slow-roasted prime rib, seared ahi, wood-grilled fresh salmon, and a fresh vegetable platter. 305 1st St, Lake Oswego, OR 97034. Phone: (503) 675-3322

El Ranchito Mexican Restaurant, 329 2nd St, Lake Oswego, OR 97034 Phone: (503) 636-0331

Singha Thai Restaurant All dishes are prepared by Thai chefs and all meals are cooked using natural and traditional herbs and spices. 15902 Boones Ferry Rd, Lake Oswego, OR 97035 Phone: (503) 636-4384

Sports
Lake Oswego Sports Lake Oswego has numerous leagues for children and adult participants.

Recreation Centers include:
The Adult Community Center offers a variety of recreational, educational, and social programs, for adults 50 years or older.

Charlie S. Brown Water Sports Center is located on the Willamette River. 350 Oswego Pointe Drive Phone: 503-697-6503

Lake Oswego Golf Course & Practice Range 17525 Stafford Road, Lake Oswego, OR Phone: (503) 636-8228

Indoor Tennis Center has 4 indoor courts for year round use. 2900 Diane Drive Phone: 503-635-5550

Lake Oswego Skate Park 5520 Willow Rd. Corner of Willow and Pilkington. Skate Park Phone (during open hours): 971-563-8045 Registration Info: 503-675-2549

Swim Park is open to residence of Lake Oswego. The Swim Park is open daily June 29 - August 29. 12 pm to 6 pm Sunday through Saturday. 200 Ridgeway Road 503-675-2549 during business hours.

Lake Grove Swim Park Lakeview Blvd. near South Shore Blvd. It is operated by the Lake Oswego School District Phone:503-635-0355

Lake Oswego School District Swim Pool, 2400 Hazel Road, (located on the Lake Oswego High School campus). For complete schedule including lessons, lap swim, open swim, Red Cross programs, synchro swim, diving, aerobics, etc., call the Lake Oswego High School Pool 503-534-2330.

Community Sports Organizations:

Pacer Junior Baseball - Spring and fall baseball for grades K-8 feeding into Lakeridge High School.

Lake Oswego Junior Baseball for grades 7-8 offer sign-ups in February with activity beginning in April.

Lake Oswego Little League for grades K-6 will register in January for season beginning in April.

Lake Oswego Soccer Club will register for spring indoor soccer in January with leagues beginning in late March.

Lake Oswego Swim Club operates from the Lake Oswego School District Pool at Lake Oswego High School.

Lake Oswego Youth Basketball is sponsored by Community Schools. Register now for girls and boys in grades 4-6. Games begin January 12.

Lakeridge Youth Football registers in May for its season beginning in August.

Lake Oswego Girls Softball, spring and fall ASA fast pitch softball for grades 1 – 8 in Lake Oswego.

City History
Until the mid 1800's, a small population of the Clackamas Indians occupied the land. Diseases from the early explorers, however, killed most of them. In 1855, the remaining Indians gave their territory to the Federal Government and moved to the Grand Ronde Reservation in Yamhill County. Oswego was founded in 1847 by Albert Durham. He named the town after his birthplace in New York. Iron ore was discovered and in 1865, Oregon Iron Company was incorporated. Oswego was soon booming with several Iron companies which brought about several general stores, churches, saloons, drugstore, hotels, barbershops, and even an opera house. In 1886 a small railroad between Portland and Oswego was built which furthered development. The City of Oswego was incorporated in 1910 and with the demise of the iron industry, land development came alive. Paul Murphy developed the Oswego Lake Country Club. He also encouraged well know architects to design fine homes in the 1930'2 and 1940's. This is where Oswego's reputation began as a community of fine homes.

Surrounding Cities: Milwaukie, Tigard, West Linn, Tualatin

City Pictures: Lake Oswego, Oregon
| | | | |
| --- | --- | --- | --- |
| Lake Oswego Welcome Sign | Lake Oswego Map | Lake Oswego High School | Lake Oswego Golf Club |
| | | | |
| Town Center Shopping | Lake Oswego Town Center | Grove Swimming Park | Lake Oswego Home |
| | | | |
| Oswego Lake | Mansion on Lake Oswego | Mansion on Lake Oswego | Lake Oswego Home |
| | | | |