Portland Suburbs & Neighborhood Info

ADD TO OUR SITE?

If you would like to add additional information to this website click here and provide the information.
| | | | |
| --- | --- | --- | --- |
| County: Multnomah, Washington | | | Zip Codes: 97201, 97221, 97219, 97225, 97239 |
City Description for Relocating to Portland Metro
These pages contain items about suburbs of Portland such as: employers, transportation, city housing, schools, religious affiliations, parks and recreation, entertainment, demographics, library, clubs, restaurants, sports, city history, surrounding cities and city pictures.
SW Portland, Oregon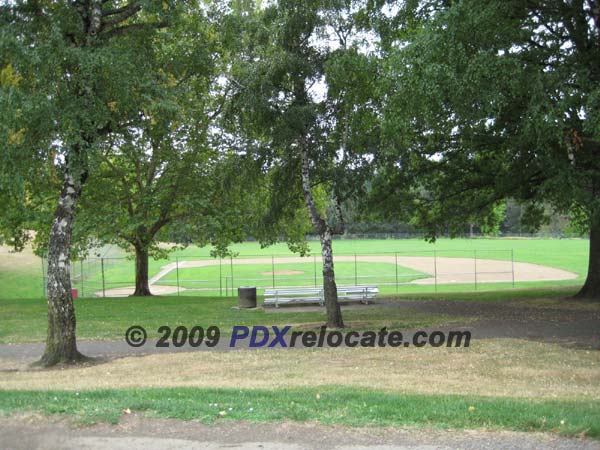 Southwest Portland is a great place to live with some of the best schools in all of Oregon. To the left is Gabriel Park one of many off-leash dog parks in the Portland area. Many people come to this park for Softball events, Baseball events, to allow their dogs to play with other dogs off the leash, play on the new skate park, to play tennis, to go walking or jogging etc..

Living in Southwest Portland gives you access to many small and quaint neighborhoods and villages like Multnomah Village.
SW Portland

Employment Opportunities
Employment opportunities:
Click here for a list of the large employers in SW Portland.

Transportation
DMV: Oregon DMV When relocating to Oregon you will need to get in touch with the Oregon Department of Motor Vehicles to obtain an Oregon driver's license, pass DEQ testing for your car, renew license plates among other things. The closest DMV is located

Housing
For listings in specific areas of SW Portland click here to e-mail pdxrelocate and we will route your e-mail to the best Real Estate Agent who exclusively serves SW Portland and qualifies under the pdxrelocate standards and practices for Real Estate Agents.

Schools
SW Portland Schools:
Elementary Schools
Middle Schools
High Schools
Private Schools

Religious Affiliations
There is an abundant amount of religious affiliations in SW Portland. Click here for a list of all the churches, synagogues, temples and mosques in SW Portland, Oregon.

Park and Recreation Information
SW Portland Parks and Recreation-click here for a list of all the parks and recreation centers in SW Portland, Oregon.

Entertainment
Portland Center for the Performing Arts, 222 Southwest Clay Street, Portland, OR Phone: (503) 274-6560, 1111 SW Broadway, Portland, OR 97205-2999, phone: (503) 796-9293

American Heritage Theater Project, 4690 SW Comus Place, Portland, OR 97219, phone: (503) 245-3642

Artists Repertory Theatre, 1516 SW Alder Street, Portland, OR 97205, phone: (503) 241-9807

Best of Broadway, 1515 SW Morrison Street, Portland OR 97205, phone: (503) 241-1407

Dolores Winningstad Theatre, 1111 SW Broadway, Portland 97205, phone: (503) 248-4335

Firehouse Theatre, 1436 SW Montgomery Street, Portland, OR, phone: (503) 274-1717

Jefferson Theatre, 1232 SW 12th Ave, Portland, OR 97205, phone: (503) 223-1846

The Musical Theatre Company, 1111 SW Broadway, Portland, OR 97201-2557, phone: (503) 280-6592

Oregon Children's Theatre, 600 SW 10th, Suite 501, Portland, OR 97205-2723, phone: 503-228-9571

Oregon Symphony, 921 Southwest Washington Street, Portland, OR Phone: (503) 228-4294

Oregon Maritime Museum SW Naito Pkwy & SW Pine St 503.224.7724

Portland Art Museum is recognized internationally for its more than 42,000 objects reflecting the history of art from ancient times to today. 1219 SW Park Ave

Portland Police Museum has been in existence since 1976 and features exhibits in chronological order. 1111 SW 2nd Ave

The Old Church is now a non profit historic site. 1422 SW 11th Ave

Oregon Historical Society houses the permanent exhibit on the History of Oregon: 'Oregon My Oregon'. It also presents major traveling exhibitions on a variety of themes. 1200 SW Park Ave 503.306.5249

Wells Fargo History Exhibit features a Concord stagecoach, hands-on telegraph, guided tours, video, and artifacts. 1300 SW 5th Ave 503-886-1102

Demographic
Southwest Portland's median household income is greater than the National Average in all areas of the Southwest. Southwest Hills, Bridlemile, Far Southwest, and Homestead have the largest household incomes in Southwest Portland. The neighborhoods vary as to the percent of the households that rent as compared to own their home. West Slope, Maplewood, Bridlemile, and Far Southwest all have more people owning their home than the National Average while Raleigh West, Southwest Hills, Hayhurst, Corbett, Fultan, Lair Hill have less than the National Average. The average property tax is as follows: West Slope $3,970, Raleigh West $3,855, Southwest Hills $9,521, Hayhurst $3,478, Maplewood $4,020, Hillsdale $5,379, Bridlemile $5,972, Far Southwest $5,727, Corbett, Fulton, & Lair Hill $5,075, and Homestead $5,248.

Library
Southwest Libraries
Capitol Hill Library opened in 1972 and offers a meeting room for community meetings at no charge. 10723 S.W. Capitol Highway, Portland, OR 97219 503.988.5385

Hillsdale Library a branch of the Multnomah County Library was certified as a green bulding in 2004 which was the year the southwest opened at their new location. 1525 S.W. Sunset Boulevard, Portland, OR 97239 503.988.5388

Clubs
Escape is a dance club for all ages. 333 Southwest Park Avenue, Portland, OR Phone: (503) 227-0830

Multnomah Athletic Club is an amazing athletic facility next to PGE Park. 1849 Southwest Salmon Street, Portland, OR Phone: (503) 223-6251

Riverplace Athletic Club is a top-notch facility down by the waterfront. 0150 Southwest Montgomery Street, Portland, OR, Phone: (503) 221-1212

Arlington Club attracts civic minded leaders from all walks of life for discussions in their clubhouse comfortably nestled in the center of Portlandís cultural district. 811 Southwest Salmon Street, Portland, OR Phone: (503) 223-4141

10th Avenue Athletic Club, 1111 Southwest 10th Avenue, Portland, OR Phone: (503) 294-7420

Restaurants
Hands On Cafe is a hand-crafted student run restaurant. 8215 SW Barnes Rd, Oregon College of Arts and Crafts, Portland, OR 97225 Phone: 503-297-1480

Club El Baile offers Cuban food and dancing. 11051 SW Barbur Blvd., 246-0023. Serves lunch and dinner Tuesday-Sunday. Inexpensive-Moderately priced.

Couvron might be easy to pass on the street without noticing it but it's food is a work of art and creativity. If you can afford this restaurant, you are in for a treat. 1126 SW 18th Ave., 244-9296. Serves dinner Tuesday-Saturday. Very expensive.

Salvador Molly's is located in Hillsdale in a casual space of a strip mall. They offer Caribbean and Latin cuisine and reggae music. 1523 SW Sunset Blvd., 293-1790. Serving lunch and dinner Tuesday-Saturday. Moderate.

Moorefield's is remarkable in every aspect. 6401 SW Macadam Ave., 246-6900. Dinner Monday-Saturday. Expensive.

Sports
Oregon Adult Soccer Association, 1750 Southwest Skyline Boulevard, Portland, OR Phone: (503) 292-1814

Portland Youth Soccer Association, 4840 Southwest Western Avenue, Beaverton, OR Phone: (503) 646-6683

SoccerPlex, 8785 Southwest Beaverton-Hillsdale Highway, Portland, OR Phone: (503) 297-4145

Southside Soccer Club, 16285 Southwest 85th Avenue, Tigard, OR Phone: (503) 968-7197

F C Portland Soccer Academy, 5319 Southwest Westgate Drive, Portland, OR Phone: (503) 297-6486

Cedar Splinters Soccer Club, 2850 Southwest Cedar Hills Boulevard, Beaverton, OR Phone: (503) 672-9264 x439

West Hills Racquet Club, 2200 Southwest Cedar Hills Boulevard, Portland, OR Phone: (503) 646-4106

Portland Athletic Club, 5803 SW Beaverton Hillsdale, Portland, OR Phone: (503) 292-2649

Southwest Swimming Pool, 6820 Southwest 45th Avenue, Portland, OR Phone: (503) 823-2840

YMCA, SW Barbur Blvd, Portland, OR Phone: (503) 223-9622

Wilson Swimming Pool, 1151 SW Vermont St, Portland, OR Phone: (503) 823-3680

City History
One Southwest neighborhood in Portland is Multnomah. It is centered around the Multnomah Village business district. This community developed in 1910 around a depot of the Oregon Electric Railway. It was annexed by the city of Portland on November 7, 1950. One memorable tidbit of history of the area was Mayor Bud Clark firing Police Chief Jim Davis while the two were having a breakfast meeting at the Fat City Cafe.

Surrounding Cities: Beaverton, Aloha, Hillsboro, Tualatin, West Linn, Lake Oswego

City Pictures: Southwest Portland, Oregon
| | | | |
| --- | --- | --- | --- |
| Gabriel Park Off Leash Sign | Gabriel Park Baseball Fields | Gabriel Park Baseball | Gabriel Park Off Leash |
| | | | |
| | | | |
| Gabriel Park Tennis | Gabriel Park Volleyball | Southwest Community Center | Southwest Community Center |
| | | | |
| Southwest Community Center | Southwest Community Center | Southwest Community Center | Southwest Community Center |
| | | | |