Portland Suburbs & Neighborhood Info

ADD TO OUR SITE?

If you would like to add additional information to this website click here and provide the information.
| | | | |
| --- | --- | --- | --- |
| County: Washington | | | Zip Codes: 97077, 97076, 97075, 97008, 97007, 97006, 97005 |
City Description for Relocating to Portland Metro
These pages contain items about suburbs of Portland such as: employers, transportation, city housing, schools, religious affiliations, parks and recreation, entertainment, demographics, library, clubs, restaurants, sports, city history, surrounding cities and city pictures.
Beaverton, Oregon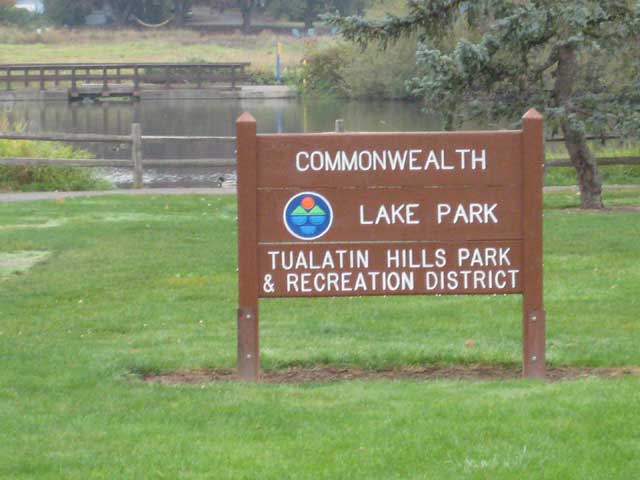 Commonwealth Lake Park is a part of the many parks that are affiliated with the Tualatin Parks and Recreation District (THPRD). THPRD is one reason why people love to live in Washington County specifically Beaverton. Tualatin Parks and Recreation is tax payer funded and the people living in the district get to enjoy countless parks, playgrounds, lakes, tennis courts, roller blading and running trails, dog walking and off leash areas, softball, baseball, basketball, art and crafts, dancing, aerobics, weight lifting and many other enjoyable community activities. Wherever you see the symbol on the sign above you know that it's a part of the Tualatin Hills Park and Recreation District. For a nominal fee you can pay a little extra and get access to all the schools, swimming pools, and buildings that are closest to you for your workouts.
Beaverton--Home of Nike, incredible schools and parks.

Employment Opportunities
Employment opportunities: Employment opportunities: Beaverton is part of the Silicon Forest area and is home to numerous technology organizations and companies including Linux Foundation, Linux Technology Center of IBM, Tektronix, and Maxim Integrated Products. It is also located a hop, skip, and jump from INTEL. Beaverton is also home to NIKE and Reser's Fine Foods. Although there are literally thousands of employers in Beaverton below is a list of the larger ones. The most well known include Nike and Intel. List of the large employers in Beaverton.

Transportation
Beaverton is centrally located with easy access in all directions and served by Highway 26 and Highway 217. Commuters can find easy access to busses and light rail from any area. TriMet is the mass transit for the Portland Metropolitan Area.

Park and Ride locations in Beaverton are:
Beaverton Creek, SW 153rd Ave. & Millikan Way., Beaverton 97006
Bethel Congregational Church, 5150 SW Watson Ave., Beaverton 97005
Elmonica, SW 170th Ave, 1200 SW 170th Ave., Beaverton 97006
Hall/Nimbus, 8505 SW Cascade Ave., Beaverton 97008
Millikan Way, SW Millikan Way. & 141st Ave./Shannon Pl., Beaverton 97005
Seventh-Day Adventist Church of Beaverton, 14645 SW Davis Rd., Beaverton 97007
Somerset Christian Church, 16255 NW Bronson Rd., Beaverton 97006
Southminster Presbyterian Church, 12250 SW Denney Rd., Beaverton 97008
Sunset TC Parking Garage, 10470 SW Barnes Rd., Beaverton 97225

DMV: Oregon DMV When relocating to Oregon you will need to get in touch with the Oregon Department of Motor Vehicles to obtain an Oregon driver&;s license, pass DEQ testing for your car, renew license plates among other things. The closest DMV is located in the Cedar Hills shopping center at 10280 SW Park Way, Portland, OR 97225, (503) 299-9999, Drive Test Appointments.

Housing
For listings in specific areas of Beaverton e-mail pdxrelocate and we will route your e-mail to the best Real Estate Agent who exclusively serves Beaverton and qualifies under the pdxrelocate standards and practices for Real Estate Agents.

Schools
Public Schools: Beaverton is part of the Beaverton School District which has outstanding support and opportunities for students. Click any of the Beaverton Schools below for some brief information, addresses and phone numbers.

Beaverton Schools:
Elementary Schools
Middle Schools
High Schools
Private Schools

Religious Affiliations
There is an abundant amount of religious affiliations in Beaverton. Click here for a list of churches, synagogues, temples and mosques in Beaverton, Oregon.

Park and Recreation Information
Beaverton Parks and Recreation-click here for a list of all the parks and recreation centers in Beaverton, Oregon.

The Tualatin Hills Parks and Recreation District, which services Beaverton, is one of the finest park districts in the country. Their facilities include 6 indoor and 2 outdoor swim centers, a large indoor tennis complex and numerous outdoor neighborhood courts, 3 recreational buildings, several soccer and baseball fields, skate parks, Elsie Stuhr Center for adults 55 an older, Nature Park and Interpretive Center, Fanno Farmhouse, Jenkins Estate/Camp Rivendale, and numerous neighborhood parks with play equipment and walking trails.

Entertainment
Valley Movie Theater, 9360 SW Beaverton/Hillsdale Highway, 503.29M.OVIE. This is a bargain priced movie theater that shows movies that are a few weeks out from going on DVD.

Century 16 Cedar Hills Crossing, is located in Cedar Hills Crossing and is a newer state of the art theater featuring rocking seats, digital stereo sound, Lucas film THX certification and a Starcade Game room. Tickets can be purchased in advance on Fandango.com. 3200 SW Hocken, Beaverton, OR

Demographic
Beaverton is the 2nd largest city in the county and the sixth largest city in Oregon. As of 2008 the estimated population of Beaverton is 86,205. According to the 2000 census there were 76,129 people with a racial mix of 78.31% White, 11.12% Hispanic or Latino, 9.65% Asian, 1.74% African American, .67% Native American, .36% Pacific Islander, and 5.53% from other races. The median income for a family was $60,289 and there were about 5% of the families below the poverty line.

Library
Beaverton Libraries:

Washington County Library Service-- Washington County is an outstanding library service with several branches where you can pick up and drop off materials. The Beaverton Library (pictured below) is next store to the fountains (pictured below) that children run through in the summer as well as a Farmer's market.

Clubs
Beaverton Rotary Club: Rotary Club is a group of community service-minded individuals. The Beaverton Sunrise Rotary Club are a breakfast club that meets on Wednesdays.
Beaverton Masonic Lodge, 4690 SW Watson Ave, Beaverton, OR 97005. Phone:(503) 644-3882.
Beaverton Family YMCA, 4925 SW Griffith Dr, Beaverton, OR. Phone: (503) 644-3900

Beaverton Youth Football, Beaverton, OR 97005. Phone: (503) 644-3773.

Cedar Splinters Soccer Club, 2850 SW Cedar Hills Blvd, Beaverton, OR - (503) 672-9264 x439

Champions Family Fitness & Combat Athletics, 18918 S.W. Shaw St., Beaverton, OR. Phone: (503) 642-7500

Columbia Empire Volleyball Association, 4840 SW Western Ave Ste 100, Beaverton, OR 97005. Phone: (503) 644-7468.

Hoop, 9685 SW Harvest CT, Beaverton, OR. Phone: (503) 644-2191.

Jester Comedy Club, 15450 SW Millikan Way, Beaverton, OR 97006. Phone: (503) 626-6338.

Kiwanis Pacific Northwest District, 10184 SW Laurel Rd, Beaverton, OR 97005. Phone: (503) 641-8869.

Oregon Buddhist Foundation, 15536 SW Scholls Ferry Rd, Beaverton, OR 97007. Phone: (503) 579-9998.

Oregon Roadrunners Club, 4840 SW Western Ave Ste 200, Beaverton, OR 97005. Phone: (503) 646-7867.

Oregon Sports Offices-West, 4840 SW Western Ave # 100, Beaverton, OR. Phone: (503) 520-8700

Stoneworks Inc Climbing Gym, 6775 SW 111th Ave, Beaverton, OR 97008-5382. Phone: (503) 644-3517.

Tualatin Hills Swim Club:

Tualatin Hills Swim Club, 15707 SW Walker Rd, Beaverton, OR 97006-5999. Phone: (503) 629-5568, (503) 645-6433, (503) 533-0831.

YMCA of Columbia-Willamette, 9500 SW Barbur Blvd Ste 200, Portland, OR 97219. Phone: (503) 223-9622.

Beaverton Elks Lodge Number 1989 started with a meeting in a cemetery office in 1955 and has grown to a large facility with a restaurant overlooking Mt. Hood, dance floor, athletic room and picnic area. Location: 3500 SW 104th, Beaverton Oregon Meets: Thursdays 7:30 PM Office Phone: 503-646-6116 Email: office@BeavertonElks.org

Restaurants
Beaverton Restaurants: Beaverton is loaded with all varieties of nice restaurants, way too many to list here. A few favorites are:

Dublin Pub; 6821 SW Beaverton Hillsdale Hwy Portland, OR 97225 (503) 297-2889

Clubhouse Bar & Grill; 5134 SW Beaverton Hillsdale HWY Portland, OR 97221 (503) 244-3291

Hall Street Bar and Grill located at 3775 SW Hall Blvd, Beaverton, OR 97005. Phone 503-641-6161. They serve American food with an average price of $30. There is outdoor seating available and the bar scene is usually hopping.

Monteaux's Public House: Is a moderately priced locally owned restaurant located one block from the THPRD Recreation Complex. It is a nice place to go after a tennis match or softball game. They feature full bar, happy hour, no smoking, children's menus, and early bird specials. Location: 16165 S.W. Regatta Ln., Beaverton 503-439-9942

McMenamins: If you like micro-brewed beer then you should try out one of the several McMenamins located in Beaverton. McMenamins Murray, 5999 S.W. Murray Blvd.,503-644-4562. McMenamins Raleigh Hills Pub, 4495 S.W. Scholls Ferry Rd.,503-292-1723. McMenamins Riverwood Pub, 8136 S.W. Hall Blvd., 503-643-7189. McMenamins Cedar Hills, 2927 S.W. Cedar Hills Blvd., 503-641-0151

Sports
Master's Swimming: If you are a masterís swimmer, you will enjoy the Tualatin Hills Barracudas. They swim in an outstanding 50M pool called the Recreation Center located at 158th and Walker Rd. They host workouts in the early morning, during the lunch hour, the evening, and also Saturday morning.

Tennis: Tennis is pretty popular in the area. The Tualatin Hills Park and Recreation District have 6 indoor courts (6 more when the bubble is on the outdoor courts in the winter) and numerous outdoor courts in the neighborhoods. They feature classes and competition for the public. Private clubs in the area which have nice tennis programs are the West Hills Racquet and Fitness Club and the Sunset Athletic Club.

City History
In the early years, Beaverton was a agriculture and logging town called Beaver Dam. The town began to grow in 1868 when a railroad was built into town. Now you will find a well developed city with over 100 parks that encompass 1000 acres. There is one park within 1/2 mile of every home. There are also 30 miles of hiking trails and 25 miles of bike paths. It is now part of Silicon Valley and is a thriving a vibrant city.

Surrounding Cities: Aloha, Hillsboro, Cedar Hills, Cedar Mill, Northwest Portland

City Pictures: Beaverton, Oregon
Murray Hill Neighborhood

Murray Hill Fountains
Murray Hill Landscape
Murray Hill Bus Stop
Sexton Mountain Living
Click Here For More Pictures of the Murray Hill Neighborhood


Five Oaks Neighborhood

Concert in the Park
Autumn Ridge Park
Autumn Ridge Park Path
Park Playground
Click Here For More Pictures of the Five Oaks Neighborhood


Cedar Hills Neighborhood

Cedar Hills Park
Cedar Hills Shopping
Cedar Park Tennis
Commonwealth Lake
Click Here For More Pictures of the Cedar Hills Neighborhood


Washington Square

Washington Square Mall
Washington Square Parking
Nordstrom
Washington Square Mall
Click Here For More Pictures of the Washington Square


Greenway Park Neighborhood

Greenway Park Path
Disc Golf
Greenway Park Scenery
Play Area
Click Here For More Pictures of the Greenway Park Neighborhood


Downtown Beaverton Neighborhood

Beaverton Bakery
Beaverton Fountains
Bike Gallery
Beaverton Condos
Click Here For More Pictures of the Downtown Neighborhood


THPRD, Nike, Elmonica Neighborhood

Tualatin Hills Park and Recreation District
Nike
Elmonica Max Station
Tualatin Hills Park and Recreation District
Click Here For More Pictures of the Elmonica, Nike, THPRD Neighborhood

Commonwealth Lake
Commonwealth Lake Park
Commonwealth Picnic Table
Commonwealth Lake Park
Commonwealth Lake Ducks
Click Here For More Pictures of the Commonwealth Lake

Progress Ridge
Pond
New Seasons
Family Entertainment
Candy Store
Click Here For More Pictures of Progress Ridge