Portland Suburbs & Neighborhood Info

ADD TO OUR SITE?

If you would like to add additional information to this website click here and provide the information.
| | | | |
| --- | --- | --- | --- |
| County: Washington | | | Zip Codes: 97223, 97224, 97281 |
City Description for Relocating to Portland Metro
These pages contain items about suburbs of Portland such as: employers, transportation, city housing, schools, religious affiliations, parks and recreation, entertainment, demographics, library, clubs, restaurants, sports, city history, surrounding cities and city pictures.
Tigard, Oregon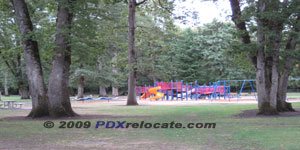 Home of many parks. Tigard's Cook Park (left). Tigard is located 10 miles southwest of Portland. It was incorporated in 1961. The City Council approved to install entryway monuments along major thoroughfares into the city to give Tigard a unique image. Downtown Tigard has many quaint shops and eateries as well as community facilities and service businesses.

Employment Opportunities
Employment opportunities:
Click here for a list of the large employers in Tigard.

Transportation
DMV: Closest DMV 10280 SW Park Way, Portland, OR 97225, (Located within the Cedar Hills Shopping Center) (503) 299-9999

Tigard is located at the junction of Interstate 5, Highway 99W and Highway 217 - a mere 11 miles from the Portland and easy access to major interstate transportation routes.

Trimet: Are you without a vehicle? Click here to map your transportation route. Public Transportation: TriMet is the public transportation system for the Portland Metropolitan area. They provide busses, light rail, commuter rail, and street car. Tri-Met, Is the Portland Metropolitan Area mass transit system. The Tri-Met bus transfer is located in downtown Tigard. Westside Light Rail runs east/west through neighboring Beaverton. The Portland International Airport is 25 minutes north of Tigard and is accessible via Light Rail.

Tigard Park & Ride

SW 74th Ave. & Pacific Hwy., Tigard, 97223
Parking - 220 total spaces
Bike racks available
Open all days
24-hour limit

Connections:
12-Barbur/Sandy Blvd
64-Marquam Hill/Tigard TC
94-Sherwood/Pacific Hwy Express
95-Tigard/I-5 Express

Weekday rush-hour service only

Housing
For listings in specific areas of Tigard click here to e-mail pdxrelocate and we will route your e-mail to the best Real Estate Agent who exclusively serves Tigard and qualifies under the pdxrelocate standards and practices for Real Estate Agents.

Schools
Public Schools:
Tigard Schools:
Elementary Schools
Middle Schools
High Schools
Private Schools

Religious Affiliations
There is an abundant amount of religious affiliations in Tigard. Click here for a list of all the churches, synagogues, temples and mosques in Tigard, Oregon.

Park and Recreation Information
Click here for your guide to Tigard Oregon Parks and Recreation information.

Entertainment
Washington Square is a large shopping complex with regular events, dining, and entertainment. Open 10a-9p M-Sa, 10a-6p Su. 9585 Southwest Washington Square Road, Tigard, OR 97223-4450. Phone: 503 639 8860

Regal Tigard 11 Cinemas. This theater shows first run block buster hits an has accommodations for the disabled. 11626 SW Pacific Hwy, Tigard OR 97223. Phone: 800.326.3264 332

Festival of Balloons is held at Cook Park each summer as part of the Rose Festival.
Fireworks displays are held each 4th of July at the Tigard High School stadium
The Tree Lighting takes place the first weekend in December downtown.
Family Festival is a three-day event in September that includes a 5K Fun Run/Walk and a fireworks display. The events take place downtown and at the Tigard Public Library.
John Tigard House is a 3 room 1880 Carpenter Gothic Victorian house on the corner of Pacific Highway and Gaarde Street. It is open to the public on the 3rd Sunday afternoon of each month with special exhibits.
Ye-Olde Windmill, 121st St. and Katherine St was built in 1909 by Edward Christensen.

Demographic
Tigard Demographics from the 2005-2007 Estimated Census Bureau.

From 2005-2007 there were 18,000 households in the city of Tigard. The average household size was 2.5 people. Families made up 63 percent of the households, 50% were married-couple families and 13% were other families. Nonfamily households made up 37 percent of all households.
Eighteen percent of the people were foreign born. Eighty-two percent were native, including 40 percent who were born in Oregon. Among people at least five years old, 22 percent spoke a language other than English at home. Among those, 52% spoke Spanish and 48% spoke some other language while 48% reported that they did not speak English "very well." Among people 25 years and over 92% had at least graduated from high school with 38% having a bachelor's degree or higher and 8% were dropouts.

The total school enrollment was 11,000. Nursery school and kindergarten enrollment was 1,500 and elementary or high school enrollment was 6,900. College or graduate school enrollment was 2,800.
Among people at least five years old, 14 percent reported a disability. The likelihood of having a disability varied by age - from 8 percent of people 5 to 15 years old, to 10 percent of people 16 to 64 years old, and to 46 percent of those 65 and older.

The leading industries for those 16 and older were Educational services, and health care, and social assistance, 16 percent, and Manufacturing, 14 percent. Among the most common occupations were: Management, professional, and related occupations, 40 percent; Sales and office occupations, 28 percent; Service occupations, 16 percent; Production, transportation, and material moving occupations, 9 percent; and Construction, extraction, maintenance and repair occupations, 7 percent. Eighty-four percent of the people employed were Private wage and salary workers; 9 percent were Federal, state, or local government workers; and 7 percent were Self-employed.

The median income of households was $61,331. Nine percent of people were in poverty. Eight percent of children under 18 were below the poverty level, compared with 8 percent of people 65 years old and over. Seven percent of all families and 32 percent of families with a female householder and no husband present had incomes below the poverty level.

For people reporting one race alone, 87 percent was White; 1 percent was Black or African American; less than 0.5 percent was American Indian and Alaska Native; 7 percent was Asian; 1 percent was Native Hawaiian and Other Pacific Islander, and 4 percent was Some other race. Four percent reported Two or more races. Thirteen percent of the people in Tigard were Hispanic.

Tigard had a total of 19,000 housing units, 4 percent of which were vacant. Of the total housing units, 62 % were in single-unit structures, 37 % were in multi-unit structures, and less than 0.5 % were mobile homes. Thirty-four percent of the housing units were built since 1990. There were 18,000 occupied housing units - 11,000 (61 percent) owner occupied and 7,200 (39 percent) renter occupied. Five percent of the households did not have telephone service and 5 percent of the households did not have access to a car, truck, or van for private use. Multi Vehicle households were not rare. Forty-one percent had two vehicles and another 17 percent had three or more.

Library
Tigard Public Library offers summer reading program, daily open hours, and a coffee bar. 13500 SW Hall Blvd., Tigard, OR 97223 Phone: 503-684-6537

Clubs
Tigard-Orenomah Masonic Lodge No 207 , 13680 SW Pacific Hwy, Portland, OR 97223. Phone: (503) 620-3838.

American Legion Post 158 , 8635 SW Scoffins St, Tigard, OR 97223. Phone: (503) 624-2332

Cancer-American Cancer Society , 13975 SW Pacific Hwy, Tigard, OR 97223. Phone:(503) 684-9060.

Girl Scouts USA , Tigard, OR 97223. Phone: (503) 620-4567 .

Oregon Association of Broadcasters , 7150 SW Hampton St, Tigard, OR 97223. Phone: (503) 443-2299.

NW Food Processors Assn, 6950 SW Hampton St, Tigard, OR 97223. Phone: (503) 327-2200.

Rotary International District 5100 , 15115 SW Sequoia Pkwy, Portland, OR 97224. Phone: (503) 620-8055.

Oregon Buddhist Foundation, 15536 SW Scholls Ferry Rd, Beaverton, OR 97007. Phone: (503) 579-9998.

Bergfreunde Ski Club , 10175 SW Barbur Blvd Ste 100Bb, Portland, OR 97219. Phone: (503) 245-8543.

World Vision , 10175 SW Barbur Blvd Ste 205B, Portland, OR 97219. Phone: (503) 293-6601.

Girl Scouts Columbia River Council, 9620 SW Barbur Blvd, Portland, OR 97219. Phone: (503) 977-6800.

Tualatin Valley Elks Lodge 2780, 8350 SW Warm Springs St, Tualatin, OR. 97062 Phone: (503) 691-1935.

YMCA of Columbia-Willamette, 9500 SW Barbur Blvd Ste 200, Portland, OR 97219. Phone: (503) 223-9622

Columbia Empire Volleyball Association , 4840 SW Western Ave Ste 100, Beaverton, OR 97005. Phone: (503) 644-7468.

Oregon Roadrunners Club, 4840 SW Western Ave Ste 200, Beaverton, OR 97005. Phone: (503) 646-7867.

Oregon Repertory Singers, 9320 SW Barbur Blvd Ste 240, Portland, OR 97219. Phone: (503) 230-0652.

Kiwanis Pacific Northwest District, 10184 SW Laurel Rd, Beaverton, OR 97005. Phone: (503) 641-8869.

Arthritis Foundation Pacific Northwest Chapter SW Capitol Hwy Ste 160, Portland, OR 97219 (800) 542-0295 9700

Beaverton Masonic Lodge SW Watson Ave, Beaverton, OR 97005 (503) 644-3882 4690

Portland Chess Club 8205 SW 24th Ave, Portland, OR 97219 (503) 246-2978

Restaurants
Tigard Restaurants:
Buster's Texas Style Barbecue, 11419 SW Pacific Hwy, Tigard, OR 97223 Phone: (503) 452-8384

Hi Hat Restaurant, 11530 S.W. Pacific Hwy, Tigard, OR 97223 (503) 246-4055

Banning's Restaurant & Pie House, 11477 SW Pacific Hwy, Portland, OR 97223 (503) 244-2558

SINJU RESTAURANT,7339 SW Bridgeport Road, Tigard, OR 97224 Phone: 503-352-3815

Maki Japanese Restaurant, 12430 SW Main St., Tigard, OR 97223 Phone 503.639.7005

Thai Delicious, 12540 S.W. Main Street, Tigard, OR< , Phone: 503-598-6688

The Cheesecake Factory, Washington Square 9309 Washington Square Rd. Tigard, OR 87223 Phone: 503-620-1100

House of Teriyaki, 11615 SW Pacific Hwy, Tigard, OR 97223-8629 Phone: (503) 620-2125

Red Robin America's Gourmet Burgers and Spirits, 10100 SW Washington Sq Rd, Tigard, OR 97223-4457 Phone: (503) 624-3955

John Barley Corns 14610 SW Sequoia Pkwy, Tigard, OR 97224-7185 Phone: (503) 684-2688

Gustav's German Pub & Grill, 10350 SW Greenburg Rd, Tigard, OR 97223-1405 Phone: (503) 639-4544

Beveland Street Coffee House, 7357 SW Beveland Rd, Tigard, OR Phone: (503) 670-1769

Cafe Allegro, 12386 SW Main St, Tigard, OR 97223-6223 Phone: (503) 684-0130

Pastini Bridgeport, 7307 SW Bridgeport Rd, Tigard, OR 97224 Phone: (503) 718-2300

Yans Chinese Restaurant, 12265 SW Main St, Tigard, OR 97223-6221 Phone: (503) 639-3005

Sports
King City Golf Course. The course is open to the public although it is located within a retirement community. 15355 SW Royalty Pkwy, Tigard, OR 97224. Phone: (503) 639-7986

Summerfield Golf & Country Club is a 9-hole executive length golf course. 10650 SW Summerfield Dr, Tigard, OR 97224. Phone: (503)620-1200

Southside Soccer Club, 16285 SW 85th Ave # 401, Tigard, OR 97224-5424. Phone: (503) 968-7197

Costco Wholesale, 7850 SW Dartmouth Avenue, Tigard, OR 97223. Phone: (503) 639-0811.

Tri Squares Square Dance Club, dances the 1st Saturday and 3rd Friday of each month. Traditional Square Dance Attire. 7:30 to 8:00 - Plus Dancing, 8:00 to 10:00 MS / Rounds Last Tip Plus. Tigard Grange 13770 S.W. Pacific Hwy, Tigard, OR 97223.

ClubSport Oregon, 18120 SW Lower Boones Ferry Road, Tigard, OR 97224. Phone: (503) 968-4500.

Westside Poker Club - Tigard Branch
Tigard Little League Phone: (503) 968-2255 .

Tigard's various youth sports leagues.

Tigard Basketball Association for Grades: 3rd - 12th

Tigard Junior Baseball for 13-14 year olds
Tigard Little League for Boys 6 – 12 and Girls 6 - 14

Tigard-Tualatin Babe Ruth for Junior Team: Ages 13-15, Senior Team: Ages 16-18

Tigard Youth Football for Grades: 3rd - 8th

Tigard Lacrosse Club for Grades: 3rd - 8th
Southside Soccer Club for Grades: K - 12th

City History

Tigard is named after one of the original settlers, Wilson Tigard. His family arrived in 1852 in an area known as East Butte. They were involved in building the East Butte School, a general store and post office, and a meeting hall. From 1907 to 1910 Main Street grew rapidly with several new buildings due to a surge of German settlers. In 1908, limited telephone service began and in 1910 the Oregon Electric Railway developed which brought about more growth. Tigardville, as it was know then, became more than a small farming community. In 1911 electricity was introduced and in 1930 the streets of Main Street were paved. In 1961 the city became incorporated and the name of the city was changed to distinguish it from nearby Wilsonville.

Surrounding Cities: Beaverton, Tualatin, King City, Southwest Portland

City Pictures: Tigard, Oregon
Summerfield Retirement

Summerfield Golf Sign
Summerfield Tennis
Summerfield Retirement
Recreation Center
Click Here For More Pictures of Summerfield Retirement
City Pictures

Windmill Park Sign
Welcome to Tigard
Billards and More
Tigard City Hall
Click Here For More Pictures of City Pictures
Cook Park

Cook Park Sign
Cook Park Playground
Soccer Fields
Covered Picnic Area
Click Here For More Pictures of Cook Park
Schools

Durham School
Tigard High School
Tigard Durham Swim Center
Tigard High School